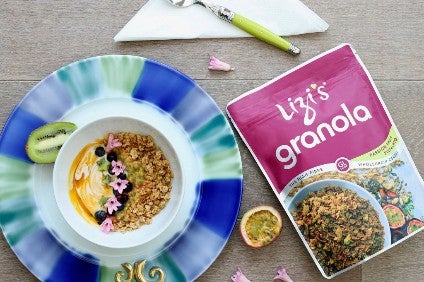 South Africa's Pioneer Food Group has made another acquisition in the UK, snapping up The Good Carb Food Company, which owns granola brand Lizi's.
The deal, struck for an undisclosed sum, comes a year after Pioneer bought Stream Foods, the UK producer of the children's snacking brand Fruit Bowl.
Pioneer's UK arm, which predominantly manufactures own-label breakfast cereal for the country's retailers, has been making Lizi's products under contract for The Good Carb Food Company. It described granola as "one of the fastest-growing categories" in the UK breakfast cereal market.
In South Africa, Pioneer markets breakfast cereal under brands including Weet-Bix, ProNutro.
"This purchase is in line with our strategic plans for acquisitions in geographies and categories where we have an existing presence," Pioneer CEO Tertius Carstens said. "We are confident that this deal will benefit both the Lizi´s business as well as our own, given the synergies between the companies. "Lizi's is the fastest growing brand in the UK's fast accelerating granola category. The brand has shown exceptional growth over the last three years and is now the number two brand in its category."
The Good Carb Food Company was set up in 2003 by Dr Mick Shaw and his wife Lizi. Under Pioneer's ownership, the business will continue to run its sales and marketing function, operating from its current site in Cardiff, separately to the South African group's existing UK unit.
Pioneer's UK division was formerly Bokomo Foods until September of this year. That month, the company appointed Jonathon Thorn to be the unit's new chief executive. The business announced the promotion of Thorn – he had been Bokomo Foods' commercial manager – by saying the executive would lead the company's "ambitious UK expansion plans".