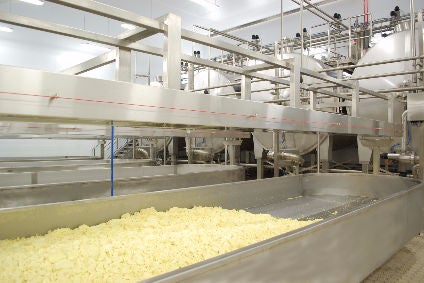 Welsh dairy firm South Caernarfon Creameries has opened a cheese production facility to broaden the range of lines the company can make.
The new unit is located at the company's existing ' site in Chwilog in north-west Wales. The project will increase the group's capacity from 9,500 to 12,000 tonnes of cheese annually.
South Caernarfon Creameries said the investment will allow it to produce different types of cheese to bespoke customer specifications and enable further product innovation for its customers and for the Creameries' own Dragon brand. The group said the project will also allow the company to "greatly improve operational efficiencies for the co-operative" and
Alan Wyn Jones, managing director at South Caernarfon Creameries, said: "Although it's currently a very challenging period for both milk producers and processors, it is vital that we continue to invest for the future. Our new cheese factory provides us with best-in-class production facilities that will further support our growth strategy with both existing and new customers. Our objective now is to get the new factory to its full processing capacity as quickly as possible and that will be achieved in partnership with our key customers and our product innovation programme. We have also during last year recruited a number of new Welsh member farmers in preparation for the new production unit."
South Caernarfon Creameries said the investment allowed "the safeguarding" of the current 100 jobs at the business. A spokesperson insisted there had been "no concerns over jobs" prior to the unit being opened, but the unit would allow higher efficiencies and as a result would be "best placed" to secure future business.
The comoany added if its current growth objectives are met, it would plan a second investment phase over the next few years to reach 17,000 tonnes per annum.