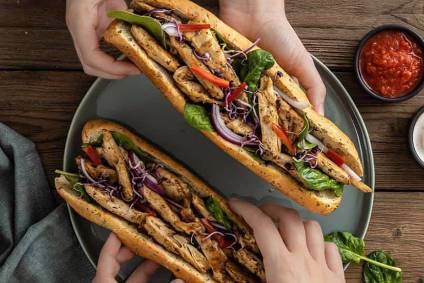 Heura Foods, a fledgling plant-based foods supplier from Spain, is looking to open up another export market, with the signing of a distributor to cover Scandinavia.
The Barcelona-based business, which was set up in 2017, is working with Swedish distributor Kale United, which focuses on handling plant-based products. Kale United is also a shareholder in Heura Foods.
"Scandinavian society shares our mission in creating a more sustainable world. The global community of game changers we are creating to bring consciousness of the real impact of livestock will be one of the keys of our success there," Heura CEO and co-founder Marc Coloma said. "A survey from Ernst & Young found that 24% of Nordic consumers predict they will eat less meat in the next five years, primarily due to health and environmental reasons, and 34 percent of the Nordic consumers indicated that they would eat more vegetarian food."
Heura, which is already present in seven other countries, generated turnover of EUR2.5m (US$3m) in 2019.
The company has yet to secure confirmed listings in Scandinavia but Coloma was confident its products would appeal to local consumers. "We represent a second generation of plant based meat, we not only focus on delivering a great sensorial experience but also outstanding nutritionals that will leave the animal meat obsolete. This approach is a consequence of our Mediterranean heritage," he insisted.
Heura is looking to launch its alternatives to chicken and beef in the region, with plans to target Sweden first.
"The sustainability concern in all Scandinavian countries make all of them countries where plant based meat will grow in the upcoming years," Coloma said. "We have decided to start expanding first in Sweden as it is the country with more population and the higher amount of meat consumption per capita, 77.06kg per person according to FAO. It will be followed by Norway."