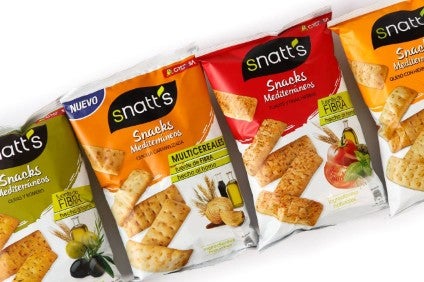 Grefusa, the Spain-based snacks group, wants to boost its nascent presence in the UK as part of a push in select international markets.
The privately-owned company generates sales of around EUR100m (US$116.1m) a year but only 5-6% of its business is from outside Spain.
However, in the last two years, Grefusa, which does business in around 30 countries, has sought to build its position outside Spain by focusing on markets it deems present better prospects. By 2021, Grefusa, which is still seeing growth in Spain, wants to see 10% of its sales generated internationally.
"We have high aspirations," Grefusa international marketing director Stephen Culhane told just-food. "From a strategy point of view, international is an area we want to really grow. We're shifting from an export strategy to an international strategy. When we began exporting, we looked to sell to every market that was interested in buying. Then, as the years passed by, we saw which markets were growing more and decided to pull back our resources and focus on the markets that are growing well."
Grefusa's international push is centred around its Snatt's brand under which it markets what Culhane calls "better-for-you" products like popped chips and bread snacks.
Italy and Germany are Grefusa's two largest markets outside of Spain and countries which remain the company's "two priorities" internationally, Culhane said.
In Italy, Grefusa started selling snacks in the country's vending channel but has recently secured listings with retailers including Coop Italia and Finiper. In Germany, the company has listings with major grocers including Edeka, Rewe and Metro's Real.
"We also have relatively significant sales by our turnover in the likes of Norway, Switzerland and Australia – which has grown very quickly over the last year – but they'll be secondary level areas for us. We're actually also doing little projects in the US and Brazil, even though we're still trying to rein back," Culhane said.
"It's hard to say no. We're at least putting in checkpoints and saying: 'OK you're interested. What is your market?' Out of those 30, our two priorities are Italy and Germany and then we have four or five secondary-class markets. I feel very adamant that the fact is the UK is the size it is and, if we really want to be in Europe, we need to be going to the UK. What I love about the UK is it's great for innovation and it's a very open culture to different types of foods. In other markets, specifically in Mediterranean markets, you find they're quite closed to new experiences and flavours."
In the UK, Grefusa sells products through a distributor that mainly serves ethnic stores, Culhane says. "It's quite a small base at the moment. The next step would be trying to get into the large multiples but we're still going on a step by step basis.
"We only began looking at the UK last year. After analysing a little bit the size of the savoury-snack market, we see that the UK is by far the biggest in Europe. It's more than double the size of any other market. Germany is ranked second and the UK has double the turnover."
Asked if Grefusa had held talks with the UK's larger grocers, Culhane said the company's local distributor had had some discussions. "What I do find from experience is from the first point of contact to actually selling in there could be anything up to two years. It's a long, long process. There is so much involved, from the presenting, to the audits etc."
However, Grefusa's range of Mediterranean-style snacks, especially its bread-based snacks, do need some explanation to buyers.
"The UK, being as big as it is, it's always going to be one of the most competitive markets out there but, at the same time, what makes us unique – apart from the better-for-you snacking, which is a trend but there's a lot of competition out there – is the Mediterranean element. We don't see a lot of competition out there, specifically in the bread-snack area, which once again makes us different," Culhane says.
"The bread-snack element is a different one to introduce as it is quite new. You have to be careful you don't get classified as a bread substitute because a bread substitute would be typically the dried bread you would serve without flavour. We aren't that. We're a bread-snack, not a bread substitute. We stay in the snack section.
"It's a big issue in all markets. It's more of an elegant type of snacking. We think our products would fit with a nice glass of wine as a snack, rather than salt and vinegar crisps."