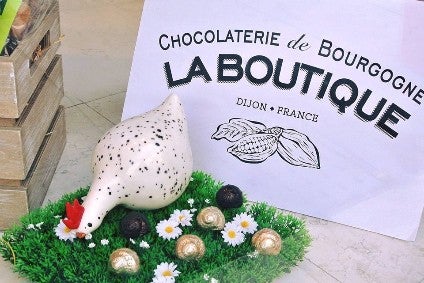 Spain's Ibercacao is lining up to acquire troubled French chocolate maker Chocolaterie de Bourgogne.
Based in the city of Dijon, Burgundy, Chocolaterie de Bourgogne attracted investment last August from a consortium made up of a French bank – Caisse d'Epargne Bourgogne-Franche-Comté – and two local investment firms – Rubis Capital and ACG Holding – who injected EUR5m (US$6.2m) into the loss-making company in return for a 35% holding.
But that did not prevent the company from entering judicial administration at the end of October last year.
The French firm was supplying liquid chocolate from its only plant based in Dijon to Barry Callebaut under a five-year contract, which expired towards the end of last year, Chocolaterie de Bourgogne's managing director Celine Boidevézi told just-food.
Details of the bid from fellow chocolate producer Toledo-based Ibercacao, which is owned by Grupo Chocolates Lacasa and is focused on private label brands, remain sketchy. But Boidevézi confirmed that the Spanish firm was planning to retain 65 of its 185 workers.
Formerly the property of Swiss food giant Nestle, the Dijon plant was owned by Barry Callebaut between 2007 and 2012 before being acquired in a management buyout.
In February 2015, when under court protection, Chocolaterie de Bourgogne was acquired by another consortium led by two Dutch investment funds, Varova and Nimbus.
Chocolaterie de Bourgogne produces between 55,000 and 60,000 tonnes of private label and industrial chocolate annually, with 80% of output going for export in Spain, Germany, Russia and Italy. It posted a turnover of EUR30m in 2017.
"Our difficulties have in part stemmed from operating as a single plant rather than as an industrial entity," Boidevézi said. "Ibercacao's offer provides scope for this to happen."