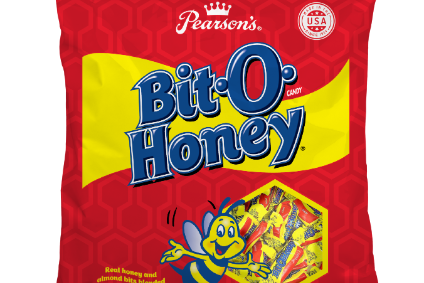 US confectionery business Spangler Candy Company has acquired the Bit-O-Honey brand from local peer Pearson's Candy Co.
The well-known brand, which was sold to Pearson's by Nestlé in 2013, joins a range at Bryan, Ohio-based Spangler, including Dum-Dums, Sweethearts, Necco wafers and Circus Peanuts.
The financial details of the deal were not disclosed.
Spangler chairman and CEO Kirk Vashaw said: "Bit-O-Honey is a perfect addition to the Spangler family of brands. Its history and nostalgic appeal blend perfectly with our existing brands."
Bit-O-Honey, which has a soft texture and roasted almond and honey ingredients, first appeared in 1924, made by the Schutter-Johnson Company of Chicago. It underwent a variety of ownership changes between 1969 and 1983, when it was acquired by Nestlé where is remained before being sold to St Paul, Minnesota-based Pearson's seven years ago.
Dan Lagermeier, Pearson's CEO, said: "We are pleased that Bit-O-Honey has moved to a great new home. Moving this brand to Spangler allows Pearson's to continue our focus on manufacturing our core brands, including the Salted Nut Roll, Mint Patties, Nut Goodies, and the BUN cluster bar."
Spangler Candy Company has been family-owned since 1906. It it is one of the largest lollipop producers in the world.
Pearson's was acquired by US private-equity firm Spell Capital Partners in 2018.