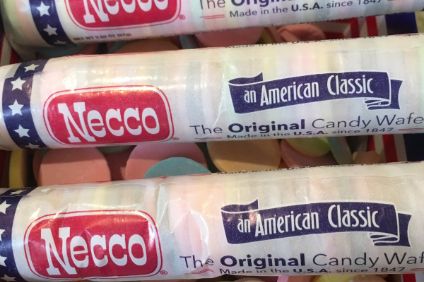 US confectioner Spangler Candy Co. has confirmed it is the buyer of the New England Confectionery Company's most famous brand, Necco Wafers.
The Ohio-based business said in a statement: "Spangler has acquired two iconic candy brands – Sweethearts and Necco Wafers. The brands and equipment only were obtained following a series of transactions precipitated by the New England Confectionery Company bankruptcy."
Earlier this month it was revealed that another of the New England Confectionery Company's well-known products, the Clark Bar, had been sold to Pennsylvania-based Boyer Candy Co. and that a number of other Necco brands were to be sold off at an auction at the end of September.
Now Spangler – whose brands include Dum Dums and Candy Canes – has confirmed it is the new owner of two of those brands.
Its chairman and CEO Kirk Vashaw said: "The combination of Dum-Dums, Candy Canes, Sweethearts, and NeccoWafers will make Spangler a stronger company within the global confectionery market and will be a catalyst for growth.
"There are a lot of manufacturing challenges and unanswered questions at this point, and we want to make sure these brands meet consumer expectations when they re-enter the market. We look forward to announcing the Sweethearts relaunch for the 2020 Valentine season, and hope to reintroduce Necco Wafers to the marketplace in 2019.
"Sweethearts and Necco Wafers are iconic brands with rich hundred-year-plus histories. These are perfect additions to our portfolio of traditional candies,"
The New England Confectionery Company, better known as Necco, closed the doors on its manufacturing facility in Revere, Massachusetts, in the summer after a prolonged attempt to find a buyer for the business ultimately failed.
An earlier bankruptcy auction for the confectioner had named Spangler as the buyer with a US$18.8m offer but that deal fell through.
Round Hill Investments, through its Sweetheart Candy Co. vehicle then snapped up Necco in May for US$17.3m.
But it was subsequently reported a dispute had erupted between the trustee of Necco and Round Hill about the terms of the final payment for the candy supplier. Round Hill then shut Necco's manufacturing facility before selling on the business to an unnamed party which led to its brands, equipment and premises being put up for sale.
Alongside the Necco brands purchase, Spangler also announced it has purchased and is making plans to renovate the adjacent 20-acre campus owned by New Era Ohio (NEO), providing additional room for warehouse space, future expansion and growth.
Work on the new campus will continue for some time, according to Vashaw.
"Significant renovations have to happen at New Era to bring it up to food grade standards," he said. "Our new brands and our campus expansion will have direct benefits to our consumers, customers, suppliers, employees and the communities where we do business."