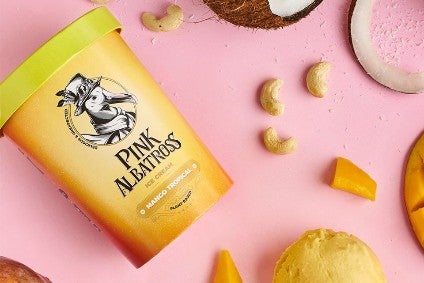 A Spanish start-up making plant-based ice-cream has launched its first public funding drive, aiming to raise EUR600,000 (US$665,000) within two months.
Pink Albatross began making its mainly cashew- and coconut-milk based ice creams in June 2019, outsourcing production to a small artisanal manufacturing facility in a town called Ávila, an hour from Madrid.
Sales to the foodservice sector stand at about 200 litres per month and its first supermarket order arrived just before Christmas from Catalonian chain Ametllar. An initial order for 700 half-litre cartons was repeated this month.
Founded by Jose Luis (Pepe) Biaggio and Luke Saldanha, the company sold EUR34,000 worth of ice cream last year and plans to ramp that up to EUR330,000 this year using the new funding.
Last year, the company won a place in an incubator programme run by ProVeg, a Berlin-based promotor of plant based business. Along with development space, the programme connects start-ups to a network of industrial and fair trade partners.
To save consumers having to pore over small print, Biaggio and Saldanha's motto is: "if we can't draw an ingredient on the package, it's not going in the ice cream".
"Our best customers so far are the restaurants and cafes that have vegan options. We are a great solution for them. And it helps to have that for any lactose intolerant customers," said Biaggio.
The next step is exports and discussions are underway. "Portugal is the first priority. And after that we have interest from the UK," Biaggio said.