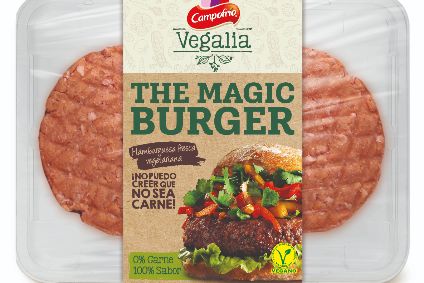 Campofrío Food Group, a producer of meat products and prepared meals based in Spain, has announced its first move into the plant-based protein category.
The move comes three years after it launched its Campofrío Vegalia unit with the aim of "responding to the needs of the vegetarian or flexitarian consumer".
The Madrid-based company has launched a vegan burger made with ingredients including soy and pea vegetable protein, mushrooms and sunflower oil.
Magic Burger is made at the Campofrío Frescos plant in Burgos.
Campofrío, owned by Mexico's Sigma Alimentos, said the Magic Burger "responds to the desire for the consumer to achieve an experience similar to that of a meat burger, both in flavour and texture".
Eduardo Velarde, marketing director of Campofrío Frescos, the company's fresh produce unit, said: "The Magic Burger formula is unique and exclusive, the result of months of research, and requires a careful elaboration process down to the smallest detail, in order to offer the consumer a high quality, fresh and freshly made vegan burger."
Magic Burger has the V-Label certification that guarantees that it is suitable for vegans.
It will be sold in both chilled and frozen formats for the retail and foodservice channels. In supermarkets, including national chain Eroski, it will sit in the chilled counter alongside fresh meat, Campofrío said.
Read just-food Guide: Eyeing alternatives – meat companies with a stake in meat-free