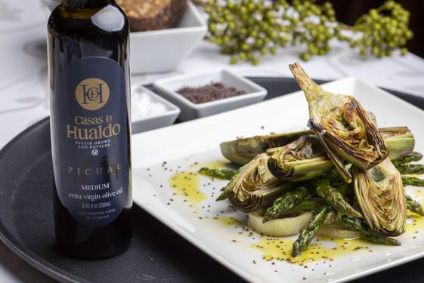 Casas de Hualdo, the Spanish olive oil business, is launching its products in the US.
The Toledo-based firm is offering four varieties of extra virgin olive oil – Arbequina, Cornicabra, Manzanilla and Picual – via retailers including Sprouts, Central Market and Fairway.
The olives in its products are sourced from the Casas de Hualdo estate in central Spain and the oil is extracted at the on-site mill within no more than six hours of harvest.
Casas de Hualdo is hoping the provenance of its products from an estate alongside the Tagus river will appeal to US consumers.
It suggests its 4,000-hectare estate is distinguished by its "mosaic of crops and the closed-cycle nature of its agricultural practices".
In addition to "premium" olive varietals, the estate's crops include pistachios, corn, rye grass, barley, alfalfa, green peas and nearly 2,000 sheep.
Casas de Hualdo products on sale in the US will range in price from US$10.99 for a 250ml bottle to $21 for a 500ml bottle.