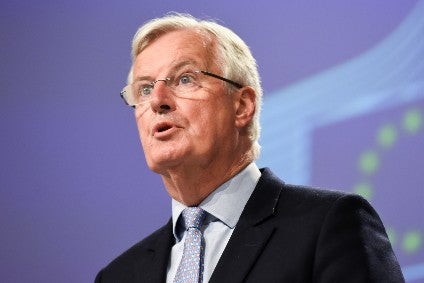 Post-Brexit trade talks between the UK and the European Union have reportedly hit a barrier over the protection status of speciality foods.
The UK's The Guardian newspaper, quoting two unnamed EU sources, said the bloc's chief negotiator, Michel Barnier, has been left "a little bit flabbergasted" after the UK attempted to re-open the debate about protecting speciality items such as Parma ham and roquefort and feta cheeses.
According to the newspaper, a UK proposal on protected status for food and drink was included in a draft free-trade agreement handed to Barnier by his opposite number, David Frost.
Its sources suggested the UK is attempting to "water down" protection for EU geographical indications, while keeping the special status for British produce, such as Melton Mowbray pork pies and Cornish pasties.
But it said EU officials have ruled out diluting provisions that protect more than 3,000 high-end food and drink products from copycats.
If the reports are correct, the move would seem to contradict the withdrawal agreement signed between UK Prime Minister Boris Johnson and EU leaders last October which, amongst other things, preserves the status of food and drink protected under the EU's geographical indications (GI) policy.
But according to The Guardian, the UK government disputes the EU description of its proposal.
It quoted a UK government official as saying the country's proposal on speciality foods is "in line with the withdrawal agreement" and would provide protection for existing and future GIs for both sides.
It reported that UK negotiators argue they signed up to the food provisions in the withdrawal treaty in the expectation they would be superseded by a future deal.
The talks are an attempt to forge a trade deal between the UK and its EU colleagues before Brexit, the UK's departure from the EU, becomes a reality at the end of this year when a 12-month transition period comes to a close.
The EU has set an end of October deadline for a deal to be carved out, saying it needs around two months to ratify a treaty before the end of the transition period on 31 December.
just-food has contacted the UK government's Cabinet Office, outside of office hours, to seek further clarification on this story.