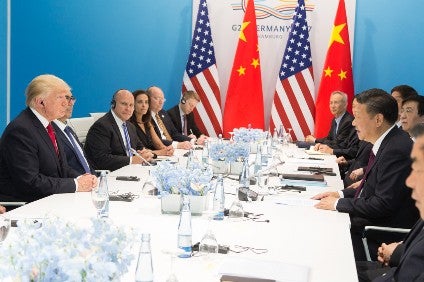 China has slapped tariffs on US$3bn of American imports in retaliation for President Donald Trump's measures on steel and aluminium shipments.
On Friday (23 March), China said it planned to impose import tariffs of 15% on US imports of fresh fruit, dried fruit and nut products, wine, ginseng and steel pipes, which according to the Ministry of Commerce amounted to $977m in 2017.
Further import duties of 25% may follow in a second-round of levies on another $1.99bn of US products entering China including pork, processed products and recycled aluminium.
Earlier this month, Trump decided to impose a 25% tariff on foreign-made steel and 10% for aluminium in response to a national security investigation he initiated last spring. The move was part of the Administration's second annual trade policy agenda, emphasising "aggressive" enforcement of US trade laws and limiting the role of the WTO.
However, the US indicated yesterday it is poised to exempt the European Union, along with six other countries from the duties on steel and aluminium, measures that were set to come into force today – but not China.
US trade representative Robert Lighthizer said Trump had decided to "pause" the import duties while further discussions took place.
China's Ministry of Commerce said in a statement: "The United States practise of restricting the import of products based on national security has severely damaged the multilateral trade system represented by the WTO and seriously interfered with the normal international trade order."
Beijing indicated its actions fall within the remits of the World Trade Organization's rules.
The statement went on to say: "If China and the United States fail to reach a trade compensation agreement within the stipulated time, China will exercise the right to suspend [under WTO rulings] concessions for the first part of the product.
"China will implement the second part list after further evaluating the impact of the US measures on China. China reserves the right to adjust measures based on actual conditions and will implement the necessary procedures in accordance with relevant WTO rules."
Meanwhile, Trump also yesterday signed an executive order to instruct Lighthizer to levy tariffs on around a wider, US$50bn of imports in China.
The tariff measures by China have struck a chord with America's National Pork Producers Council, which warned today that levies on US goods would "significantly impact" rural businesses.
According to the representative body, US pork producers exported $1.1bn of product to China in 2017, ranking the country third in terms of value for American pork shipments overseas.
US food giant Mars also stepped into the fray, saying in a tweet the company hopes the US-China dispute can be resolved quickly within the framework of international trade rules.
"Trade disputes have a significant impact on global supply chains, manufacturers and their workers, consumers, and economies."
European and Asian stocks slumped today, with US equities most likely to open on a negative footing later in the day.