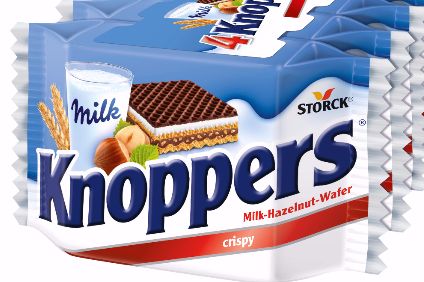 Germany-based confectioner August Storck is to launch wafer-based confectionery brand Knoppers in the UK, targeting parents and children at the start of the new school term next month.
Storck is initially launching Knoppers, pronounced with a hard K, in UK discount and convenience retailers. It is "currently in conversations" with UK multiple retailers about further listings.
"Knoppers has already proved to be a huge success in the 50 countries that have previously launched the product. We firmly believe that the brand is set to continue this success in the UK. We have had extremely positive responses from retailers so far with listings secured across multiple channels," Andy Mutton, sales director for Storck's UK arm, said.
The company is launching Knoppers in the UK on 1 September. The snacks will be available in a multipack of four – with a recommended price of GBP1.25 (US$1.61) – and as singles at a recommended price of GBP0.50.
Storck is spending GBP4.5m on a TV campaign to market Knoppers to coincide with the new school term. Touting Knoppers' "wholesome ingredients of milk, hazelnuts and wheat", as well as the 137 calories contained in each bar, Storck said the snacks were "a better alternative to chocolate confectionery".
Knoppers' top-selling markets among the 50 territories in which the brand is present are Austria, Germany and Poland.