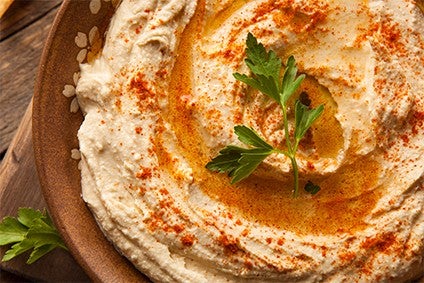 Strauss Group and PepsiCo's international venture Obela is to start selling hummus products in Germany.
Obela is to initially launch five varieties: "classic" hummus, a line with sun-dried tomatoes, another with roasted pine nuts, hummus with garlic and a Mediterranean hummus.
The foray into Germany follows the June acquisition of Florentine, a Netherlands-based firm, and the establishment of a dedicated production line for Obela at the Florentine premises.
Strauss CEO Gadi Lesin said: "The launch of Obela in western Europe is a significant milestone for Strauss Group, as part of the group's global journey overall and the dips and spreads business specifically. We are confident that even in countries already familiar with hummus, Obela's products will gain traction with local consumers and will thus enable us to continue with our global expansion."
Sabra's range of hummus includes products are non-genetically modified, vegetarian, organic, gluten-free, kosher and vegan. Obela had sales of ILS106m (US$30m) in 2016 and its products are available in Mexico, Australia and New Zealand.
Strauss and PepsiCo have two ventures. Obela, formed in 2011, focuses outside North America. Sabra, set up four years later, sells into the US.