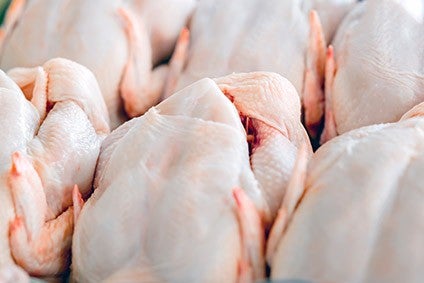 A joint study by The Guardian newspaper has revealed more than half of the UK's audited meat plants have had at least one "major" breach of food safety and hygiene standards in the last three years.
In conjunction with the Bureau of Investigative Journalism, The Guardian conducted an analysis of figures from the UK's Food Standards Agency (FSA) showing there were on average "16 major plant safety infractions every week between 2014-2017".
The revelations come after two key incidences of alleged food safety breaches at meat plants of the UK's 2 Sisters Food Group and Russell Hume.
Last year, 2 Sisters temporarily closed a poultry processing factory in West Bromwich in the Midlands after an undercover investigation by The Guardian and ITV News revealed workers tampered with slaughter date labels. There were also incidences of poor hygiene standards.
As a result, the FSA launched its own investigations into 2 Sisters, which culminated in an appearance by company owner Ranjit Singh Boparan before a UK parliamentary committee hearing, where he pledged to make improvements at all of its plants.
Only a week ago, Derby-based Russell Hume went into administration, citing the difficulties the business had faced since a recent product recall. That was triggered by an unannounced inspection by the FSA, which found issues relating to procedures and processes over use-by dates.
The company was consequently imposed with enforcement orders by the FSA and its counterpart in Scotland over its meat deliveries to customers, which included the pub giant JD Wetherspoon, schools, care homes and UK retailers.
And earlier in February, the FSA announced UK meat supplier, Fairfax Meadow, had started to withdraw some of its meat products sold into the country's catering sector after unannounced visits by the regulator on 8 February.
The Guardian said in its latest report: "Almost two thirds of audited meat cutting factories (540 out of 890) in England, Wales and Northern Ireland had at least one instance of major non-compliance with hygiene or food safety regulations. Several plants had multiple failures, with 25 breaches occurring at plants belonging to Russell Hume."
According to the newspaper, the FSA classes major non-compliance issues as "likely to compromise public health, including food safety … or may lead to the production and handling of unsafe or unsuitable food if no remedial action is taken".
"Among the overall number of failings identified by FSA auditors in the period analysed, there were 221 major non-compliances relating to maintaining legal temperature controls, and in excess of 300 relating to minimising the risk of cross-contamination," The Guardian reported. "In addition, more than 50 major breaches were discovered relating to ensuring that animal by-products are correctly identified, and 26 connected to traceability."
Breaches at Russell Hume related to aspects of production, including "maintaining legal temperature controls, preventing cross-contamination, ensuring environmental hygiene and management of food safety systems".
Labour MP Kerry McCarthy, who was shadow secretary of state for Environment, Food and Rural Affairs until 2016, questioned how "robust" the FSA's monitoring systems are.
A FSA spokesperson was quoted in the report as saying: "We carry out thousands of audits and unannounced inspections of meat plants each year to verify that food hygiene standards are being met. Issues that may pose imminent or serious risk to public health will result in immediate and robust enforcement action being taken. Only 2% of plants were found to have more than two major non-compliances."