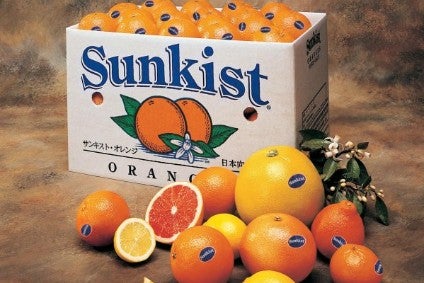 Sunkist Growers, a cooperative for citrus fruit farmers in California and Arizona, has announced its president and chief executive Russ Hanlin will retire in October with Jim Phillips set to replace him.
Hanlin also holds the same positions at the Fruit Growers Supply co-op but will relinquish those roles too when he departs on 31 October to coincide with the financial year-end after 41 years heading up the firms, according to a statement.
Phillips has been elected to succeed Hanlin by the Sunkist board on 1 July. He is president of Porterville Citrus, an affiliate of Sunkist offering packaging services to citrus fruit growers, and has 30 years experience in the agricultural industry. Phillips serves on the boards of both companies, as well as California Citrus Mutual.
Sunkist's family-farm members offer more than 40 citrus varieties such as lemons, grapefruit, tangerines and mandarins. It was established 125 years ago and supplies the retail and foodservice channels, but does not make financial information like revenues and profits public.
Gerald Denni, the chairman of Sunkist's board of directors, said: "Russ has made tremendous contributions to Sunkist Growers and the citrus industry overall. On behalf of the board, I would like to thank Russ for his dedication to our growers, shippers, employees, and customers, and to welcome Jim to the executive leadership team at Sunkist Growers."