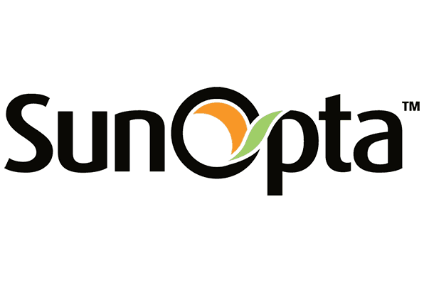 Canadian organic food group SunOpta provided details on plans to improve its performance as it booked lower operating profit for the first nine months of the year.
Revenue rose to US$1.05bn in the nine months to 1 October, compared to sales of $828.8m last year. EBIT fell to $1.98m, down from $18.6m last year. While net losses jumped to $17.1m, compared to an income of $10.6m in the first nine months of last year.
SunOpta also revealed that president and CEO Rik Jacobs and chair of the board Alan Murray will be stepping down from their respective positions. Current SunOpta director Katrina Houde will serve as interim CEO and director Dean Hollis has been appointed chair of SunOpta's board.
"I would like to thank Rik and Alan for their years of service and wish them well in their future endeavours," said Hollis. "The company has gone through a significant amount of change in a relatively short period of time and they were tireless in their efforts to provide a strategic vision, keep the company on track to meet its stated mid-term targets, while also playing key roles in a review process to produce an outcome that could benefit all of the company's stakeholders."
Last month, SunOpta launched a "thorough review" of the company's operations, management and governance, with the objective of maximising long-term value to its shareholders. It also secured an $85m investment from Oaktree Capital.
Updating on the progress of the review, SunOpta said that it intends to streamline and simplify its portfolio. As part of this, it will be shuttering juice processing and packaging facility in San Bernardino, California. The group also revealed it is committed to ensure "quality performance and improve operational excellence".
SunOpta said it has identified "significant" savings in procurement and logistics. The company said it plans to engage "third party support" in manufacturing, procurement and logistics to capture savings.
Finally, SunOpta said it wants to grow the top line by "optimising" customer and product mix. The group said it is also placing additional resources behind expanding its business in the foodservice sector.
"The strategic investment by Oaktree was a first step in the positive changes this board and management intend to bring to SunOpta," said interim-CEO Houde. "The due diligence that Oaktree undertook was extensive and allowed them to immediately bring forward recommendations for a value creation framework that will drive more reliable results, reshape our operating platform to focus our product portfolio and marketing support resources, and allow us to truly instil a system and culture of operational excellence that is achievable and sustainable over the long-term."