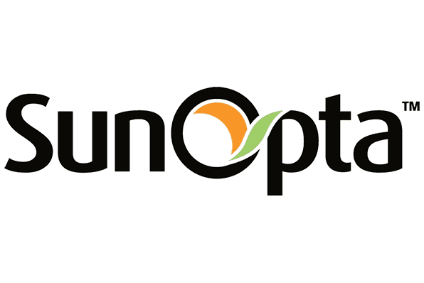 SunOpta, the Canada-based ingredients supplier, private-label group and contract manufacturer, today (10 May) reported higher first-quarter sales and an increase in underlying operating income, although its adjusted net earnings were down year-on-year.
The company booked net sales of US$352.3m for the quarter to 2 April, up 28.6% on a year earlier. SunOpta's sales were boosted by last year's acquisition of US frozen fruit supplier Sunrise Growers but the company reported growth on an organic basis.
Excluding the impact of M&A, changes in commodity-related pricing and foreign exchange rates, revenues increased 3.5% in the first quarter of 2016. Underlying sales from its consumer products division were up 5.4%. Underlying revenue from SunOpta's ingredients arm inched up 1%.
On a reported basis, SunOpta booked a decline in operating income from $10m in the first quarter to 2015 to $2.6m this year. SunOpta reported a $3.6m increase in selling, general and administrative expenses. Foreign exchange rates also contributed to the decline in operating income, with a foreign exchange loss of $2.2m recognised in the first quarter, compared with a gain of $2.1m in the first quarter of 2015. SunOpta said its intangible asset amortization expenses related to acquired businesses were up $2.2m.
Excluding the impact of the acquisition-related accounting adjustment and start-up costs at SunOpta's aseptic beverage processing facility in Pennsylvania, operating income would have been around $11.5m, the company said.
However, SunOpta's bottom line weakened on a reported an adjusted basis. The company reported a loss from continuing operations of $9.7m, or $0.11 per common share, compared to earnings from continuing operations of $6m, or $0.09 per diluted common share during the first quarter of 2015.
During the quarter, SunOpta booked costs "not reflective of normal operations", including $12.5m associated with the Sunrise acquisition, $1.3m as the company ramped up production at its east coast aseptic facility and $2.2m of "other expense item"s mainly related to voluntary product withdrawal of private-label orange juice and a voluntary recall of sunflower kernel products.
Excluding the expenses, on an after tax basis, adjusted earnings were $2.7 m, or $0.03 per diluted share, compared to adjusted earnings of $6.0m, or $0.09 per share, in the first quarter of 2015.
"We started the year by posting strong sequential gains in revenue and EBITDA with good progress against our 2016 operational goals," SunOpta president and CEO Rik Jacobs said. "We have the assets in place to support growth and steady improvement in margins. Our top priorities remain improving our operational execution and adding new products and customers to increase our capacity utilisation."