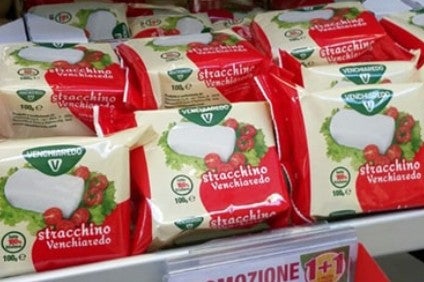 Swiss dairy group Emmi is selling its 24% stake in Italian cheese specialist Venchiaredo to focus on markets and sectors with "growth potential".
Emmi, which acquired the holding in 2010, is looking to focus its Italian business on desserts, cheese exports from Switzerland and its 25% stake in cheese trader Ambrosi, according to a statement.
The deal will see Emmi give up the sales of Venchiaredo's products. Italian dairy group Granarolo will take over the selling of Ramuscello-based Venchiaredo's products.
The forthcoming transaction will have no impact on profits or EBIT, the statement said.
In January, Emmi struck a deal to buy Italian dessert manufacturer Italian Fresh Foods for an undisclosed sum. IFF generates sales of almost EUR20m (US$23.5m), 85% of which comes from outside Italy. In 2014, Emmi offloaded Italian yoghurt arm Trentinalatte to investment fund The Livia Group.
Emmi has 25 local production sites and has a presence in 13 other markets. The company, which exports to 60 countries, posted net sales of CHF3.3bn (US$3.3bn) in 2016 and a net profit of CHF140m. Some 3,000 of its 5,800 employees are based in Switzerland.