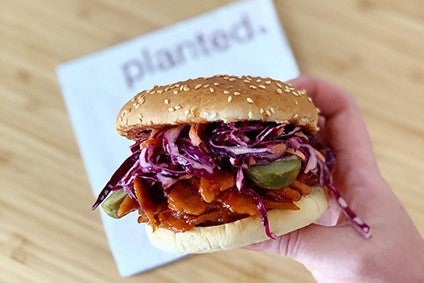 Planted Foods, a fledgling Swiss business offering meat-alternative products, has announced seed financing.
The company, which launched its first product this spring, has raised CHF7m (US$7.1m), money it said would be used for R&D, scaling up production and entering new countries. The first product, a chicken alternative made from pea protein and pea fibre, is available in the foodservice sector in the French- and German-speaking parts of Switzerland.
"We are planning to enter key European markets with our existing Planted chicken, as well as launch our new pulled pork product line," co-founder Pascal Bieri said.
Investors in the seed financing included Blue Horizon Corporation, a Switzerland-based fund that focuses on plant-based food, Zurich vegetarian restaurant Hiltl AG, German early-stage investor Good Seed Ventures and venture fund Joyance Partners.
The company, set up Bieri and three other co-founders – Eric Stirnemann, Christoph Jenny and Lukas Böni – started research in 2017.
Stirnemann added: "We will increase our production capacity to transform plant-proteins into meat by more than ten times."