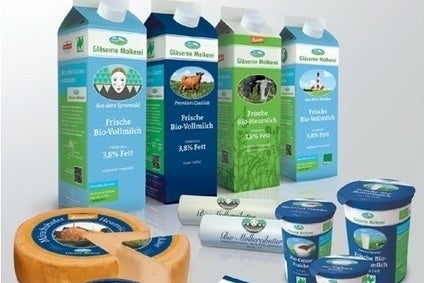 Emmi has struck a deal to take majority control of German organic milk supplier Gläserne Molkerei.
The Swiss dairy group is looking to take its stake in Gläserne Molkerei from 24% to 76%, it said today (27 August). Emmi made its initial investment in the firm in 2012.
Emmi CEO Urs Riedener said: "Gläserne Molkerei is a well-managed, healthy company with modern production facilities and high-quality organic products. The company's broad range and strong position in northern Germany will further strengthen our presence in a growing segment."
Gläserne Molkerei has sites in Münchehofe and Dechow, producing a "premium" range of milk, cheese and other dairy products, Emmi said. It sells its products primarily via German specialist organic retailers and selected retail chains. It also supplies processors in the organic foods segment.
Founded in 2001, Gläserne Molkerei generates achieves sales worth about EUR90m (US$118.6m) from its two sites and employs 100 people.
Emmi said it would look to expand the business but saw "considerable scope for synergies" in logistics and marketing.
The deal, struck for an undisclosed sum, remains subject to competition approval.
The fresh investment in Gläserne Molkerei came alongside first-half results that included a drop in profits after Emmi recorded an impairment charge on its Italian yoghurt business.
Shares in Emmi were down 2.09% at CHF327.50 at 11:16 CET.