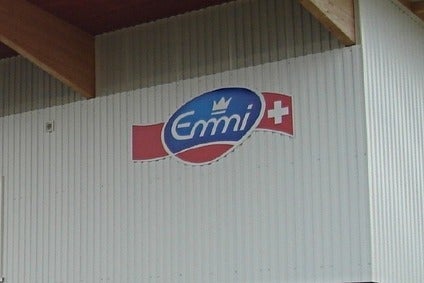 Switzerland-based dairy group Emmi today (27 August) issued a profit warning after its half-year earnings slumped in the wake of an impairment on its Italian yoghurt business.
A CHF38.5m (US$42m) impairment charge on Trentinalatte meant Emmi's net profit tumbled 76.1% to CHF9.8m for the six months to the end of June. It also affected EBIT, which dropped 41% to CHF39.8m.
The charge and lower half-year profits meant Emmi lowered its forecast for annual earnings.
Emmi said it was looking at "all options" for Trentinalatte, including selling or liquidating the business, which it acquired in 2006.
CEO Urs Riedener said "the difficult situation" in Italy meant the charge was "unavoidable".
He added: "It's regrettable, but it does reflect Emmi's intention to take action rather than simply sit and wait for disagreeable situations to go away. The increases in sales, adjusted EBIT and net profit are encouraging. They are evidence that our strategy has put us on the right track and we will continue to pursue it with determination."
Adjusted net profit was up 15.9% at CHF45.2m. Adjusted EBIT grew 14.3% to CHF74.3m.
Net sales increased 3.7% to CHF1.63bn, which Emmi said was in line with its forecasts. The company said its forecast for annual sales was "achievable".
Meanwhile, Emmi is to take majority control in German organic milk processor Gläserne Molkerei after striking a deal to up its stake from 24% to 76%.
Kepler Cheuvreux analyst Jon Cox, who has a 'hold' rating on Emmi's shares, said the company's sales were "solid" but was surprised at the impairment in Italy.
He added: "Given the stock performance and a mixed bag of results and light cash flow statement, we expect some profit taking to emerge. While not expensive in what is an expensive staples space, it lacks the quality of other international branded food companies in terms of organic sales growth, margin and key return ratio metrics and we remain on Hold. We do see it as a key player in dairy market consolidation and believe in its internationalisation strategy, given a saturated domestic market – but as the Trentinalatte impairment has shown, bolt-on M&A is not without its risks."
Shares in Emmi were down 2.84% at CHF325 at 11:04 CET.