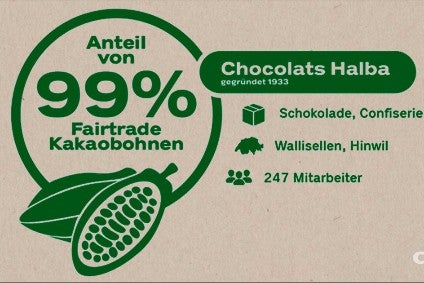 Swiss food retailer Coop Group has completed construction of a new production plant and warehouse in the Pratteln region after investing US$380m in the site, which also houses one of its most modern stores.
The facility is home to the retailer's chocolate maker Chocolats Halba, which also produces bars and pralines. Annual output is put at 15,000 tonnes of chocolate destined for the Swiss and international markets. The 100% cocoa beans are certified by Fairtrade, a global ethical standards body representing farmers, companies and workers.
"Pratteln is the heart of the Coop production," said company president Joos Sutter. "We choose to invest in the Swiss economy."
Coop's food producers provide a full range of products from meat processor Bell Food Group to Sunray, which churns out dried fruits, nuts, pulses, and herbs and spices. Coop Bakeries makes fresh breads, pastries, cakes and biscuits. Swissmill offers oat flakes, flour and durum wheat semolina, while Reismuhle provides rice in organic, kosher and fair trade forms.
In 2016, Coop generated sales of CHF28.3bn and realised a profit of CHF475m. The company employed 46,637 people in the retail sector last year and another 38,364 in warehouse and production.
The Swiss franc is pegged to the US dollar.