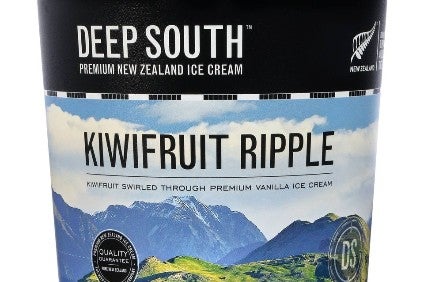 Dairyworks, recently acquired by New Zealand dairy and infant-formula business Synlait Milk, is selling its Deep South ice cream brand to a local company for an undisclosed sum.
The sale of the brand and its associated operations to Talley's, a manufacturer of dairy products, meat, seafood and vegetables, is expected to be completed on 12 November. Talley's is based in Motueka on New Zealand's South Island.
Dairyworks, purchased by Synlait earlier this year, is disposing of the ice cream brand to focus on its core dairy operations. The subsidiary company supplies branded dairy products such as butter and cheese, and also serves private-label customers.
"The decision to divest the Deep South brand and its operations reflects Synlait's intention to increase value in line with our strategy," Synlait CEO Leon Clement said in a statement this morning (19 October).
His counterpart at Dairyworks, Tim Carter, added: "The sale of Deep South enables Dairyworks to focus on our core business, explore new market opportunities and deliver strong shareholder value.
"Dairyworks is going through a period of rapid expansion in our core categories of cheese, speciality cheese, yogurt and convenience butters. While Deep South is a successful part of our current portfolio, ice cream is not our core business. The brand has strong growth potential for a business more focused on ice cream."
Synlait secured approval for its acquisition of fellow New Zealand dairy company Dairyworks in March.