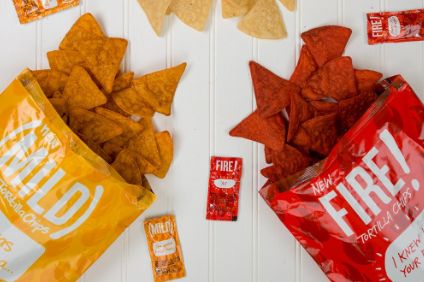 just-food publishes the most notable product development from the international food sector, presented in bitesize format to give you a flavour of the innovation from your peers and competitors announced this week.
Taco Bell branches out into tortilla chips
US Tex-Mex fast food chain Taco Bell has launched a range of tortilla chips based on its sauce packets. They will be sold in retail outlets from May.
They will be available in Fire and Mild sauce flavours, as well as Classic.
Marisa Thalberg, the company's chief brand officer, said: "This launch of our first line of sauce packet-inspired chips gives our fans a new way to access a taste of Taco Bell,
"Our sauce packets are one of the brand's most unique aspects and were the natural choice for both the flavours and packaging of our tortilla chips."
The Fire and Mild flavours will be sold in 1 ounce, 3.5 ounce, 11 ounce and 30 ounce bags, while the Classic chips will be solid in 1 ounce, 3.5 ounce, 13 ounce and 30 ounce bags. Final pricing will be set by grocery and retail outlets.
Arctic Zero launches low calorie ice cream range
Better-for-you US ice cream business Arctic Zero has extended its product line with a new low calorie range.
The San Diego company's new Arctic Zero Light Ice Cream is made with real milk and cream yet contains only 280-360 calories a pint.
Arctic Zero says it is the only light ice cream pint that does not contain sugar alcohols, corn syrup or other "questionable" sweeteners.
It joins the brand's original whey protein-based and lactose-free Arctic Zero Fit Frozen Desserts.
It is available in Cookies & Cream, Chocolate Chunk and Peanut Butter & Chocolate Cookies, Mint & Chocolate Cookie, Cookie & Brownie Dough, Toffee Crunch and Vanilla Bean flavours.
All flavours are non-GMO verified, Kosher and contain rBST free dairy.
Amit Pandhi, CEO of Arctic Zero, said: "Sweeteners are a significant issue of concern and conversation for consumers. Many of the lower calorie ice creams in the category use questionable sweeteners like sugar alcohols that can cause bloating and digestion issues. Arctic Zero Light Ice Cream is naturally sweetened with cane sugar. We want people to feel good after indulging."
Lactalis Nestle JV brings Lindahls Kvarg to the UK
Lactalis Nestle Chilled Dairy, the joint venture between French dairy giant Lactalis and the world's largest food maker, is launching Lindahls Kvarg quark products in the UK.
In response to what the venture called a "growing consumer trend", the companies are rolling out three lines – single pots designed for snacking, a 500g pot for family use and a drink marketed as an alternative to protein shakes.
The single pots are available in raspberry, vanilla and peach & passion fruit, with the drinks on sale in two flavours: raspberry and vanilla; and peach and passion fruit.
All three lines are available at Asda, with Waitrose and Ocado selling certain flavours of the single pots and the 500g product.
The single pots have a recommended price of GBP0.95 (US$1.33), the 500g pot has an RRP of GBP2.49 and the drinks are being suggested at GBP1.50.
The products are already on sale in Sweden – where the venture claims the Lindahls Kvarg range is "the number one quark product" – Switzerland, the Netherlands and Portugal.
Turkey Hill launches Decadent Delights ice cream range
US ice cream maker Turkey Hill has launched a new range in the shape of Decadent Delights.
The Pennsylvania firm's launch marks its entry into the premium novelty category. It is made up of bars and parfaits.
Decadent Delights bars include Chocolate Covered Strawberry, Coconut, Tropical Mango, and Cherry. Each flavour is intended to be tailored for audiences looking for an indulgent dessert, the cherry bar, for example, features white chocolate ice cream, with chocolate hazelnut and cherry ribbons and is covered in a triple layer of nougat, cherry, and milk chocolate rolled in cherry pieces.
The parfait selection features ice cream, fruit puree topped with whipped topping and chocolate chips. Parfait flavours include Mixed Berry, Strawberry, and Lemon Blueberry.
Turkey Hill president John Cox said: "Ice cream is a treat, and that's what Decadent Delights is meant to be. It's made for people who are passionate about good food."
Turkey Hill's Decadent Delights bars and parfaits are available in Pennsylvania, Maryland, Delaware, New Jersey, and Washington, D.C., in select stores and more widely in Kroger stores.
Schär launches low FODMAP range
UK gluten-free food specialist Schär is claiming a first with the launch of a low FODMAP range for irritable bowel syndrome (IBS) sufferers.
Some ten Schär products, certified low FODMAP by Monash University – which founded the diet – are now available in UK supermarkets.
Schar points out that approximately three million people in the UK follow a low FODMAP diet. FODMAPs are a collection of carbohydrates that are poorly absorbed into the gut that can trigger IBS symptoms in some people. The low FODMAP diet excludes foods that can contribute to IBS symptoms such as intestinal bloating and pain.
Roger Harrop, category lead at Schär, said: "We are proud to be the first brand to introduce low FODMAP-certified products into UK supermarkets for customers with IBS."
The low FODMAP products in the range include Schär Panini Rolls, Schär Wholesome Seeded Loaf and Schär Pizza bases.
Brazilian chocolate maker Garoto moves into biscuits
Brazil-based confectioner Garoto is moving into the biscuit category.
The company, which has in the past been the subject of a takeover by Swiss food giant Nestle, launched Garoto biscuits this month "for those who really love the cocoa flavour".
Consumers have a choice of two vanilla-flavoured cookies: Chocolate Drops By Milk Chocolate and White Chocolate with drops.
They will be available in major retail chains in Brazil.
Prewett's adds chocolate chip cookies to Mini's range
UK biscuit manufacturer Prewett's, which is owned by Northumbrian Fine Foods, has added chocolate chip cookies to its gluten-free Mini's range.
Mini's Chunky Choc Chip Cookies are available in a five-bag pack at Asda at a recommended retail price of GBP2 (US$2.8), with more stockists set to follow.
Prewett's launched its Mini's cheese biscuits earlier in the year.
David Wood, business improvement director for Northumbrian Fine Foods said: "These great-tasting mini choc chip cookies are ideal for gluten-free consumers looking for a delicious and convenient snack."
Strong Roots wins first Tesco listing
Irish start-up Strong Roots has won a listing with Tesco in the UK.
Its plant-based, frozen food range will now be sold in 557 of the supermarket giant's stores.
The listing will see Tesco stock five of the Dublin-based company's SKUs – Mixed Root Vegetable Fries, Oven Baked Sweet Potato Fries, Kale & Quinoa Burger, Pumpkin & Spinach Burger, and Spinach Bites.
All have a RRP of GBP2.99 (US$4.18).
Samuel Dennigan, founder of Strong Roots said: "The plant-based and vegan food category is growing at an unprecedented rate and British consumers are looking for delicious options that they can easily incorporate in daily life. Through this new listing, more British consumers than ever can enjoy premium, powerhouse ingredients in a convenient way."
The company's products are already listed at Waitrose, Morrisons, Whole Foods Market and additionally sold via Ocado and Amazon Fresh.