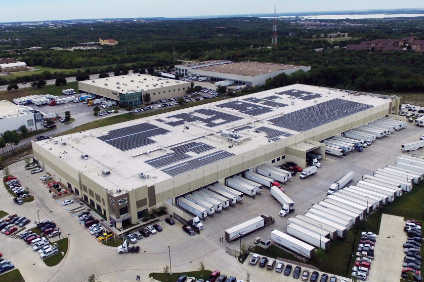 US fresh-cut vegetable producer Taylor Farms has announced the company's latest solar installation at its new prepared fresh foods facility in Dallas.
Taylor said yesterday (6 December) the roof-mounted installation comprises 3,520 solar panels spanning nearly four acres, making it "one of the largest commercial solar installations in the state of Texas".
The company said the system will produce 1.1 megawatts of direct current (DC) power for the facility daily – "an approximate 17% energy offset for the plant".
The site, which employs 1,100, "will be one of Taylor Farms' largest solar arrays", the company said. "This solar installation in Dallas is the latest example of Taylor Farms' commitment to renewable energy. This project is the eighth major Taylor Farms project in the US including solar, wind, co-generation and water recycling."
Taylor's sustainability director, Nicole Flewell, said: "This is an important step for Taylor Farms in taking our sustainability initiatives nationwide."