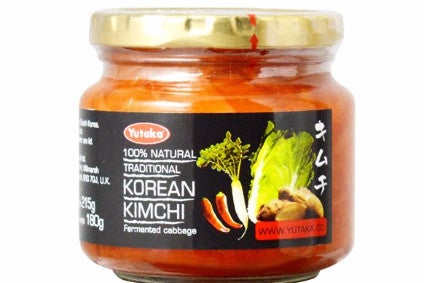 Tazaki Foods, owner of the Japanese food brand Yutaka, is to launch Korean "superfood" kimchi in the UK.
Kimchi, a blend of cabbage and spices, is touted for its health benefits, containing fibre, vitamins and minerals. It has 13 calories per 100g.
According to a statement from Tazaki Foods, until now the product has only been available in the UK through speciality retailers.
Tazaki Foods claims its kimchi product is 100% natural, containing fermented cabbage with chilli, garlic, radish, carrot, salt and ginger. It can be consumed as either a side dish or used in cooking as an ingredient.
The kimchi from Tazaki Foods will initially be launched in Sainsbury's stores from next month. A 215g jar will have an RSP of between GBP3-4 (US$4.32 to US$5.77).
Tazaki Foods is one of the largest suppliers of Japanese food to the UK market. Products sold under its Yutaka brand include sauces, seasonings, sushi ingredients and noodles.
The company also acts a UK distributor for Japanese businesses including Ajinomoto, Mizkan and Asahi.