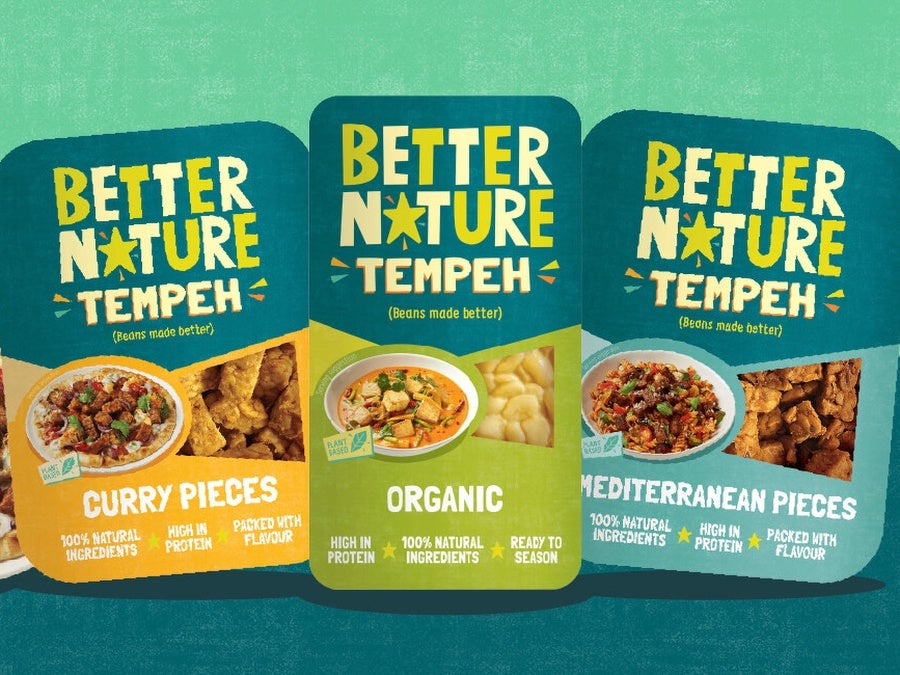 Plant-based start-up Better Nature believes tempeh will become mainstream within a year in the UK as the company prepares to launch in a major supermarket in May.
Tempeh is a fermented soybean product commonly used in Indonesian cuisine.
The brand, founded in 2018, says while the segment is "still niche", it has strong potential.
Co-founder and CEO Chris Kong argued it will "absolutely" become mainstream in the UK.
Speaking to Just Food at the IFE trade show in London yesterday (20 March), he said: "It will take time but it will absolutely happen.
"It's a matter of one year before tempeh becomes mainstream."
Having discovered the health benefits of tempeh at university, he added: "People deserve to know about it. It's so healthy."
"It's still really niche," he admitted. "But the awareness of tempeh is growing and accelerating."
Co-founder and CMO Elin Roberts said getting the messaging right was key for the brand to educate consumers on the benefits of tempeh and encourage them to taste its products.
She said Better Nature's NPD is focused on targeting consumers who have not tasted it before by using familiar formats such as burger-shaped and nugget-shaped tempeh, for example.
Better Nature is positioned as a plant-based source of protein in its own right, rather than a meat alternative. "The market is moving towards more natural products," Roberts said. "Plant-based products are taking a real priority."
Meanwhile, Better Nature has just launched a Series A funding round aiming to raise GBP3m (US$3.7m) by the end of May. It follows a GBP700,000 seed round last year and GBP1.6m round on Seedrs in 2021.
Kong said the company's focus for growth is in the retail and foodservice channels. While they do a small amount of D2C sales, he said "we don't see it as a big outlet", mainly due to practicalities around shipping a chilled product.
The company launched in Germany's second-largest retailer, Rewe, last month and the market now forms around 25% of the business. It launched in Switzerland's largest supermarket chain, Migros, last year.
While Kong said he is "eyeing up" the US market alongside the Netherlands and France, he wants to consolidate the company's presence in the UK and Germany first. "The focus is to get us towards profitability first," he said, which he hopes to see by 2025.
"The future's bright for plant-based seafood but you have to give us time to get there" – The Plant Based Seafood Co.'s Monica Talbert remains upbeat about nascent market