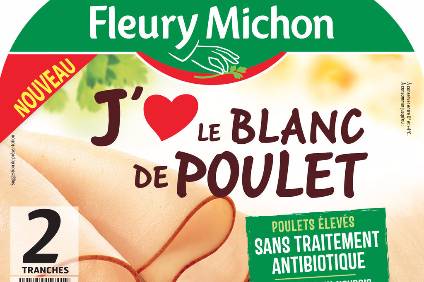 French cooperative Terrena has teamed up with French food group Fleury Michon to launch a range of antibiotic-free chicken products.
The "J'aime le poulet" (I love chicken) line, which will go on sale across France in April, "is the first line of chicken charcuterie products derived from chickens raised with antibiotics", the groups said.
Terrena and Michon said their "unprecedented partnership" is the result of more than two years of work on the project with ten poultry breeders focusing on "health and food, animal welfare and sustainable development".
For the new chicken line, the groups said breeders will provide 450,000 chickens in 2017 that have been raised on non-GM feed and without the use of antibiotics. "The chickens' feed comprises 65% French cereals, 30% protein, oilseeds and 5% of vitamins and minerals, in line with specifications laid down by France's Bleu-Blanc-Cœur healthy farming association.
Terrena will supply the chicken as part of the development of its existing "new agriculture" sustainability programme and the product will be sold under the Fleury Michon brand.
The groups said the product will also conform to Compassion in World Farming guidelines in terms of how the chickens are reared and slaughtered.
The partnership follows the launch by Fleury Michon in 2015 of non-GM and antibiotic-free pork charcuterie products under the J'aime brand name.
According to the groups, the pork range currently represents 25% of antibiotic-free deli products sold in the country. The groups said they aim for the entire J'aime to represent around 20% of all Fleury Michon products sold within the next five years.