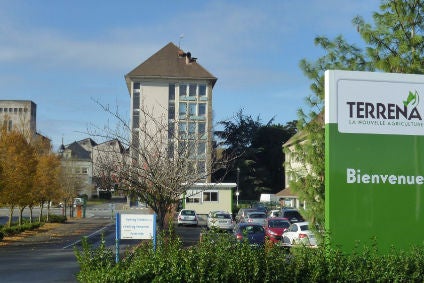 French agri-food cooperative Terrena saw its sales grow in 2016 thanks in part to recent acquisitions but revealed its EBITDA declined year-on-year.
The co-op booked a 3% rise in sales to EUR5.2bn (US$5.54bn) for 2016. Terrena pointed to the impact of changes in the size of its business during the year, including its acquisition – alongside French agribusiness Sofiprotéol – of a majority stake in local poultry processor Groupe Doux in early 2016.
Terrena, which generates 40% of its sales upstream, said "historically and persistently low market prices" for commodities including cereals and milk and dampened its top-line growth.
However, the business cited the acquisition of Doux as a factor in the decline in its EBITDA, which fell 7.8% to EUR101m. Terrena said the "climatic conditions" on its upstream business and the impact of "market conditions" on Doux's export operations weighed on earnings.
Terrena general manager Maxime Vandoni said Doux had seen "a price war" in the Middle East, its "main market".
Nevertheless, Vandoni pointed to the structural changes Terrena had made during the year, including the formation of poultry arm Galliance, which houses the Doux business and Gastronome. Terrena says Galliance is the world's third-largest poultry exporter.
Terrena president Hubert Garaud said the co-op's recent move to launch its La Nouvelle Agriculture brand would help its prospects. "2016 was a difficult year for the agricultural world. The high volatility of commodities as well as the disturbances of the markets linked to the economic and climatic contexts weighed on the results of our members and the cooperative. This year again demonstrates to us the transformation that has been going on for years in our group is fundamental. In an increasingly competitive and pushed market, La Nouvelle Agriculture offers a solid foundation of development and real economic prospects for the cooperative and for all our members. "