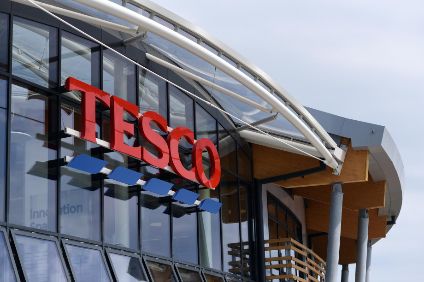 Tesco, the UK's largest supermarket group, is calling on the country's government to ensure all food sold in the UK is deforestation-free.
The move comes after Tesco was criticised by environmental campaign group Greenpeace for selling the meat products of Tulip and Moy Park, UK businesses controlled by Brazil's JBS, the world's largest meat business, which has been linked to alleged deforestation in its homeland.
But Greenpeace has criticised Tesco for asking for action from the UK government. "This is no time for them to sit back and wait," it said.
London-based Greenpeace wrote to Tesco today (5 August) calling on the supermarket to cut links to JBS over its alleged links to farms involved in Amazon deforestation.
It said: "Today, Greenpeace UK launches a campaign against Tesco, calling on the UK's largest supermarket to stop buying meat and dairy from companies involved in destroying the Amazon and to halve the amount of meat it sells by 2025 to protect people, wildlife and the climate.
"Tesco is buying meat from two UK companies, Moy Park and Tulip, which are controlled by one of the world's most notorious forest destroyers, JBS, the world's largest meat-packing company. JBS has been exposed time and time again for its part in deforesting the Amazon by Greenpeace and has been fined billions of dollars by Brazilian regulators."
Anna Jones, head of forests at Greenpeace UK, said: "Tesco's CEO knows we need to eat less meat and dairy to protect forests and stop climate breakdown. And yet the supermarket sells more of it than any other UK company and continues to buy from suppliers owned by Amazon destroyers.
"Tesco has completely failed to meet its 2020 zero-deforestation pledge and has kicked the can a further five years down the road."
Greenpeace admitted other UK supermarkets and fast food companies are also "guilty of churning out the industrial meat that's fuelling deforestation" but insisted as the largest player in the market Tesco must "lead the way".
It also said it was targeting JBS as an "industry leader".
In response, Tesco said it does not sell any Brazilian beef, chicken or pork due to concerns about deforestation and is "leading the way on developing meat-alternative products and promoting plant-based proteins".
Tesco noted Moy Park and Tulip also supply rival retailers in the UK including The Co-op, Sainsbury's and Waitrose and suggested "blacklisting them could lead to thousands of job losses, impact British farmers and ultimately compromise our ability to offer fresh British meat and chicken to our customers".
However, the retailer said it has called for a "co-ordinated UK policy on food that will drive the transformational changes needed to ensure our food systems deliver affordable, healthy, sustainable food".
It said: "Protecting the Amazon is a critical part of this and can only be achieved through a broad coalition of government, industry, experts and NGOs."
Tesco said the UK government should "mandate food companies, as part of its National Food Strategy, to introduce effective due diligence across supply chains to make sure the food sold in the UK is deforestation-free".
Dave Lewis, group CEO of Tesco, added: "We support Greenpeace's aim to prevent further Amazon deforestation".
But Greenpeace criticised Tesco for not agreeing to take action unilaterally.
In a statement sent to just-food, Jones said: "Laws to stop products being sold in the UK that can't be proven free from deforestation and human rights abuses would be very much welcome. But this legislation could take years to come into force and would need to be strong enough to really deal with the problem.
"Companies like Tesco hold a huge amount of power and influence over our food system. This is no time for them to sit back and wait. Has Tesco forgotten it's mantra? 'Every little helps'. Two simple steps would help protect people and planet – drop forest destroyers now and halve meat sales by 2025."
A UK government spokesperson said: "The UK has a long and proud history of supporting action to combat deforestation and promoting the sustainable management of the world's forests. While significant progress has been made, more needs to be done to ensure our supply chain is as sustainable as possible.
"We are currently reviewing the Global Resource Initiative's recent independent report, which sets out further steps we can take to reduce the UK's environmental footprint overseas – including a mandatory due diligence obligation. We will set out our formal response later this year."
JBS told just-food: "JBS is committed to ending deforestation throughout its supply chain and we have been at the forefront of the industry in taking steps to improve supply chain traceability in Brazil. We are working closely with national and local government departments to develop solutions and system improvements around supply chain traceability and best practice to eradicate deforestation.
"The interests of all stakeholders are aligned on this topic. New initiatives have been proposed and are being examined with stakeholders on top of the substantial policies that have already been implemented. JBS will continue to evolve continuously in new initiatives and plans in the coming months to promote significant changes.
"All JBS subsidiary companies adhere to strict responsible procurement policies throughout their supply chains and share our dedication to eliminating deforestation for good."