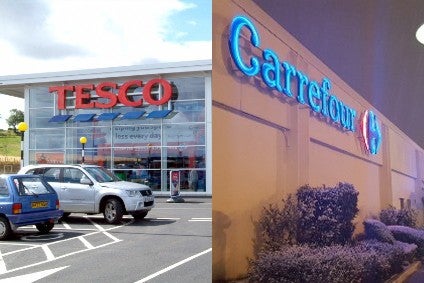 Tesco and Carrefour, two of Europe's largest food retailers, have decided to end their "strategic alliance" on purchasing goods.
In the summer of 2018, the companies announced they would join forces on "the joint purchasing of own-brand products and goods not for resale".
At the time, Europe's grocery retail sector had seen has a number of retailers join forces on buying in a bid to keep a lid on costs and become more competitive.
In a stock-exchange filing today, Tesco, the UK's largest retailer, said the companies would not extend their buying tie-up "beyond the three-year operational framework" set out in 2018. The alliance will wrap up on 31 December.
"Over the last three years, Tesco and Carrefour have benefited from a number of joint buying opportunities across food and general merchandise categories," the retailer said.
The co-operation had given Tesco "access to new suppliers, new sources and new products," Tesco insisted.
"Moving forward, both companies have agreed that they will continue this work independently and focus on their own opportunities, building on the experience and the progress made during the alliance period."
Carrefour put out a near-identical statement.
Clive Black, director and head of research at Shore Capital, said: "Read another way, for whatever reason, regulatory, cultural, and operational, there would appear to be little notable benefit from the alliance on an ongoing basis.
"Such a view does not come as a great surprise to us, having observed many attempts by major grocery chains to explore economies of scale through amalgamated buying. In truth, the outcome is far from clear or impressive for major players. Apart from bananas, it was not especially evident in food for Asda in the UK being part of
Walmart, never mind other buying groups."