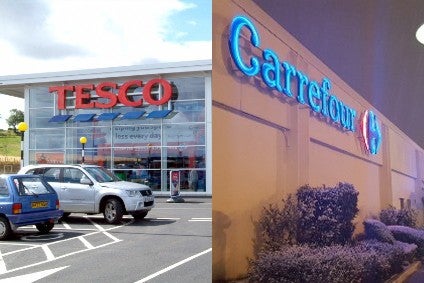 Tesco and Carrefour have become the latest major retailers to team up on purchasing, today (2 July) announcing "a long-term, strategic alliance".
Europe's grocery retail sector has seen has a number of retailers join forces on buying in a bid to keep a lid on costs and become more competitive.
In a joint statement, Tesco and Carrefour said their deal would "cover the strategic relationship with global suppliers, the joint purchasing of own brand products and goods not for resale".
The retailers, which expect to formalise the tie-up within the next two months, sought to talk up the benefits to suppliers.
"The alliance will enable both companies to improve the quality and choice of products available to their customers, at even lower prices thereby enhancing their competitiveness. This agreement will also allow both companies to strengthen their relationships with their suppliers and create significant opportunities for those suppliers. Each company will continue to work with supplier partners at a local and national level."
Industry watchers said recent corporate moves in the food retail sector, such as the proposed merger between Sainsbury's and Asda, as well as the inroads Amazon is making in grocery, were likely to be factors behind the deal between Tesco and Carrefour.
Patrick O'Brien, UK retail research director at UK-based market analysts GlobalData, also made a link between the rise of discounters Aldi and Lidl.
"Tesco is obviously concerned by the increased potential buying scale of a combined Sainsbury's and Asda, and both it and Carrefour are worried by the idea of Amazon making more ambitious moves in European grocery retail. However, it should be noted that a key focus of the tie-up is to reduce prices on own-brand products, and this is more of a direct response to Aldi and Lidl, whose offers are heavily weighted towards own-brand. Tesco and Carrefour have both struggled to match the discounters on quality and price, and the alliance should help it compete."
Buying partnerships are a feature of Europe's grocery retail market. There is the AMS sourcing network, which features ten European food retailers including Ahold Delhaize, Sweden's ICA and the UK's Morrisons.
The Geneva-based retail alliance Agecore comprises six grocers, including Germany's Edeka, Eroski in Spain and France's Intermarche.
On Friday, Germany's Metro Group and two French grocers, Casino and Auchan, announced a buying pact called Horizon.