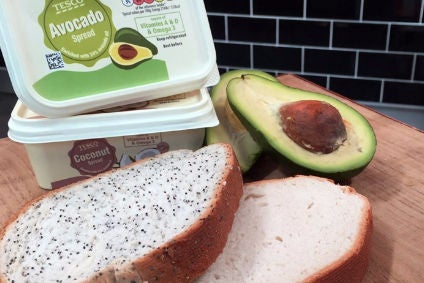 UK supermarket Tesco has launched an avocado spread on the market.
The retailer claimed the spread was an industry "first" for the UK with the product designed to "substitute butter and margarine".
The spread is suitable for vegetarians and vegans and Tesco said it contains less saturated fats, calories and salt when compared to butter.
Tesco added its avocado sales have grown 40% in the last year "making it one of the UK's fastest growing established fruit varieties".
Tesco spreads buyer Dean Rawlinson said: "Shoppers can't get enough of avocados which have become extremely popular on account of their great taste, versatility in food and drinks as well as for their nutritional benefits. We're always looking for innovative new avocado products for customers. With this, the UK's first ever avocado spread, our product developers have created a new and exciting way for shoppers to benefit from the excellent health credentials of avocados in even more ways."
The retailer is launching a second spread made with coconut oil.
Both dairy-free spreads have an RSP of GBP1.20 (US$1.73).
The launches come at a time amid challenging trading in the UK spreads category. Last month Kerry Group said its private-label spreads saw further market share losses to block butter and branded offerings on promotion. Unilever, in its full year results announcement, also reported its spreads unit continued to come under pressure. The firm this year announced its attempt to lift UK spreads sales through the launch of a dairy-free variant to Flora.