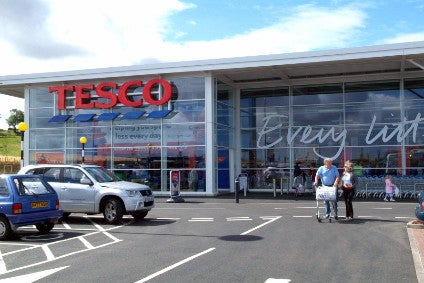 UK big four supermarket Tesco has forged a four year partnership with environmental organisation WWF (the World Wide Fund for Nature) aimed at making it easier for shoppers to buy "affordable, healthy, sustainable food".
Tesco said the joint venture is intended to reduce the environmental impact of the average UK shopping basket by 50% within 12 months.
It quotes joint research from the organisations that shows 80% of shoppers want supermarkets to do more to offer choices that reduce the impact their food purchases have on the planet but which also reveals that 59% are confused about which foods counted as sustainable and 75% think that cost is a barrier.
The retailer said its three main areas of focus in the project are helping customers eat more sustainable diets, "restoring nature" in food production and eliminating food and packaging waste from the sector.
Dave Lewis, Tesco's CEO, said: "Our Little Helps Plan illustrates what we are doing to address the most significant environmental and social challenges facing our shoppers, colleagues, suppliers, and communities. I'm pleased we're making progress, but we want to go further to achieve our goal of providing customers with affordable, healthy, sustainable food.
"Partnering with WWF will help us make our customers' shopping baskets more sustainable. Our shared ambition is to reduce the environmental impact of the average shopping basket by half. By working with farmers, suppliers, colleagues and other experts we hope to develop innovative solutions so shoppers can put affordable, tasty food on their plates today, confident they are not compromising the future of food for generations to come."
Tanya Steele, the CEO of the WWF's operations in the UK, said: "Our flagship Living Planet Report 2018 recently revealed that the world is under threat like never before – we're destroying forests, choking the oceans with plastic, decimating wildlife and causing devastating changes to our climate. And it's the demand for food that poses one of the biggest dangers to our planet. It's the leading cause of deforestation, destroying countless habitats and threatening wildlife to the point of extinction.
"We have the power to not only stop, but to reverse the damage, if we act now. That is why we are delighted to be partnering with Tesco, to help create a food system that doesn't cost the Earth."