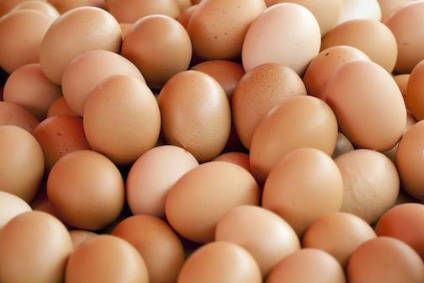 Tesco is following in the footsteps of its UK high street rivals with the announcement that it is to stop selling eggs from caged hens by 2025.
Waitrose only sells free range and organic eggs, while Sainsbury's stopped selling whole caged eggs in 2009 and stopped using them as an ingredient in 2012. Aldi made the same pledge as Tesco, to cut out caged eggs by 2025 earlier this year.
The UK's largest retailer said it came to the decision after speaking with industry experts, suppliers and other stakeholders.
This will have a significant impact on the UK's egg production industry because Tesco sells 1.4vb eggs a year, of which nearly half (43%) are currently sourced from caged hens.
Campaign group Compassion in World Farming congratulated Tesco on the "bold commitment" shown in the decision, which it said represented a "leadership position over the remaining UK retailers that sell caged eggs."
Caged hens are the cheapest way of producing eggs, but the method is considered cruel by animal welfare campaigners. The most basic form, barren battery cages were banned across Europe in 2012, but enriched cages with more facilities were still allowed. Now Tesco will move to only using barn hens for its non free-range eggs.
"Our decision on caged hens is one of a number of Tesco initiatives designed to ensure sustainable sourcing, and improve animal welfare," said Tesco commercial director for fresh food Matt Simister.
"We carried out an extensive and collaborative review with our suppliers and key industry experts to help us work through how best we can move to 100% cage-free eggs. This will ensure we give our supplier partners the certainty they require, to make the significant and necessary investments needed for the new farming systems."
Working with supplier partners, Tesco will make the switch to 100% cage-free eggs, moving to alternative sourcing methods, such as barns, free range and organic.
"We have already started investigating new methods of egg production, and the commitment from Tesco to move away from enriched colony production in a manageable timeframe gives us the confidence and ability to invest for the long term," said Veli Moluluo, managing director of Tesco's largest egg suppliers Noble Foods.
The move is the latest initiative to ensure Tesco sources products in a sustainable way. Tesco recently launched its Fair For Farmers Guarantee for fresh milk which helps support British dairy farmers.
Tesco has also introduced guaranteed high value contracts for British potato growers, and sustainable farming programmes for lamb farmers and producers of cheese.
Earlier this year the supermarket also launched new fresh produce ranges, including a number of Farm Brands and its Perfectly Imperfect range, which allows Tesco to take more fresh produce from British growers – up to 95% of their crop.
The high street giant has also pledged to source more of its seafood in a sustainable way, in partnership with the Marine Stewardship Council.