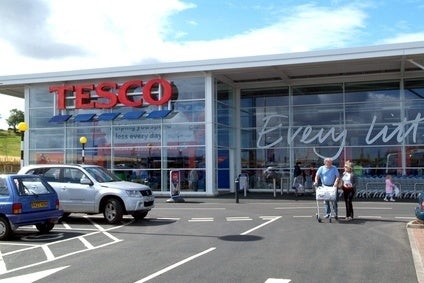 Tesco has reportedly sent out more than 3,000 emails asking its suppliers to cut prices in reflection of falling commodity costs.
According to reports this weekend, the UK supermarket giant warned that if suppliers failed to reduce prices they could see products withdrawn.
Tesco is in a process of renegotiating supply deals. Last month, CEO Dave Lewis said that the company was adjusting its ranging policy, slimming down the number of SKUs carried to focus on higher volume lines.
Data from the World Bank recently revealed a decline in all nine key commodity price indices. Food commodity prices have declined by 20% since 2011 and the World Bank is predicting a further 4% drop in 2015 given current good crop prospects for grains, edible oils and meal.
However, the apparent request comes at a time when Tesco is also facing accusations of supply chain bullying.
Earlier this year, an accounting scandal broke when a GBP263m hole in the books was revealed. The profit shortfall is related to the recording of "commercial income", payments from suppliers. Last week, the UK's Grocery Code Adjudicator launched an investigation into Tesco's supply chain dealings.
The probe will focus on delays in payments associated with: short deliveries; consumer complaints; invoicing discrepancies; deductions for "unknown" or "un-agreed" items; incorrect gate fees for promotional costs; or deductions for historic promotions that had not been agreed. The Adjudicator will also consider instances where suppliers were required to make payments for better shelf positioning that were unrelated to a particular promotion.
The GCA, Christine Tacon, said that there was "reasonable suspicion" that the retailer has breached the Grocery Supply Code of Practice by delaying payments to suppliers. "I have applied the GCA published prioritisation principles to each of the practices under consideration and have evidence that they were not isolated incidents, each involving a number of suppliers and significant sums of money."
Tesco was unavailable for comment this morning (9 February).
Click here for just-food's detailed coverage of Tesco's supply chain in focus.