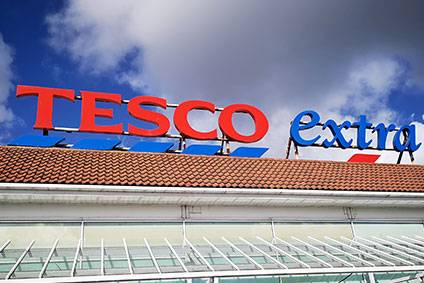 Tesco is rolling out an initiative that will see its supply base offered sustainability-linked supply chain finance, in a move the UK supermarket retailer hopes will encourage more suppliers to sign up to science-based emissions reduction targets.
The voluntary programme is delivered in partnership with Santander and is directly linked to Tesco's sustainability commitments.
It has been in development for 18 months and is due to launch in September. The progamme will see annual greenhouse gas emissions data provided by suppliers independently verified and assessed by sustainability experts, Anthesis.
Tesco suppliers will be offered preferential financing rates via Santander's market-leading supply chain finance platform, which incentivises suppliers to make positive changes to their business while tracking performance and creating a culture of continuous improvement. The rates will be based on each suppliers' carbon data disclosure, emissions reduction targets and progress against sustainability goals.
Tesco will regularly update the scope of the sustainability data requirements in-line with market best practice and its own sustainability commitments. The retailer expects the programme to be of particular interest to small and medium-sized businesses. Tesco will provide online tools and support to help these suppliers enrol in the scheme.
Ashwin Prasad, Tesco's chief product officer said: "In this critical year for climate action, we're delighted to be able to offer thousands of suppliers access to market-leading supply chain finance linked to sustainability. This programme not only provides suppliers with a real incentive to set science-based emissions reduction targets, but it will also help embed sustainability goals throughout our supply chain and support the UK in realising its climate change targets."
Darren Jones, head of Santander Corporate and Investment Bank UK added: "Action on climate change is crucial and from individuals to corporates, we all have a part to play. Supply chain finance can be an effective tool for influencing positive change by linking sustainability achievements with competitive financing. Santander recently announced its ambition to achieve net zero carbon emissions across the group by 2050, and we are committed to supporting our clients in their transition to a low-carbon economy."