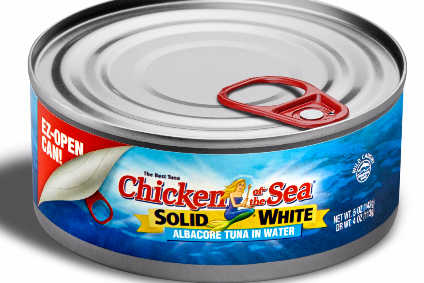 Thai Union Group, the owner of seafood brands such as John West and Chicken of the Sea, has made a commitment to source 100% of its branded tuna from fisheries certified by the Marine Stewardship Council or taking part in programmes moving them towards MSC certification.
The Thai seafood giant said it wants a "minimum" of 75% of the tuna it sources for its brands to fall into this category by 2020. Thai Union also revealed plans to invest US$90m in initiatives such as 11 new so-called fishery improvement projects.
"Tuna is the most readily available source of protein for millions of people around the world, and at least 1bn depend on seafood for nourishment or employment. As a leader in the seafood industry, Thai Union has a responsibility to protect tuna stocks for the good of the world," Thai Union CEO Thiraphong Chansiri said. "Our substantial investment will transform tuna sourcing for the entire industry and demonstrates our strong commitment to the sustainability of our oceans."
The way Thai Union sources its tuna has come under scrutiny, with the company facing criticism from campaigners. In October last year, Thai Union Group's UK unit John West and Princes, the UK food and drink group, came under fire from Greenpeace over their tuna sourcing and sustainability pledges.
In August Greenpeace wrote an open letter to US retailers and foodservice operators to encourage them to stop selling brands of tuna produced by firms that refuse to "drop opposition to sustainability". In the letter, Greenpeace urged Chicken of the Sea, a US subsidiary of Thai Union, to "clean up its act".
A month earlier in the UK some John West's tuna products were removed from Tesco stores in the UK after the company failed to meet the retailer's sustainability standards.
And last month, Greenpeace, a vocal critic of Thai Union, broadened its campaign to attack Sainsbury's for stocking the Thai group's John West brand in the UK.
The Bangkok-based seafood processor is also taking action on tuna traceability and is implementing the use of new technologies to strengthen traceability.
"Currently only 11 tuna fisheries globally are MSC certified, supplying just 14% of globally landed tuna. Our commitment and strategy will have a positive impact on the entire industry by significantly increasing the supply of sustainable tuna available to the seafood processors, retailers and, ultimately, consumers," said Darian McBain, Thai Union's global director for sustainable development.
Thai Union's new tuna commitment will apply to all of its tuna brands sold around the world, including Chicken of the Sea, Genova, John West, Mareblu, Petit Navire and Sealect.
Officials at Greenpeace had not responded to a request for comment at the time of writing.