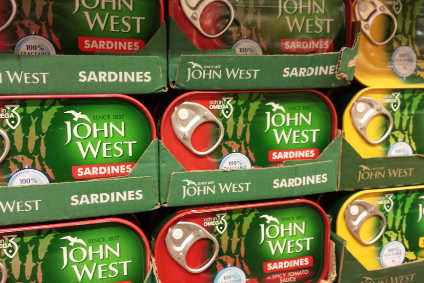 Greenpeace has welcomed a new commitment to sustainable tuna sourcing by the Thai Union Group – but the campaigners called on the company to make "investments that amount to real change for oceans and workers".
Thai Union yesterday (13 December) announced plans to source 100% of its branded tuna from fisheries certified by the Marine Stewardship Council or those taking part in programmes moving them towards MSC certification. The company, which owns brands including John West, pledged a "minimum" of 75% of the tuna it sources for its brands would fall into this category by 2020.
Thai Union also revealed plans to invest US$90m in initiatives such as 11 new so-called fishery improvement projects.
However, Greenpeace's global seafood markets project leader Graham Forbes said: "Real progress on tuna will require that companies like Thai Union move beyond unreliable eco-labels to take decisive action to eliminate the worst practices and problems from their supply chains."
Forbes said Thai Union's commitment to MSC-certified tuna raised "concerns… following a highly-critical WWF report about the reliability of that eco-label". Forbes was referring to a recent WWF paper on Indian Ocean tuna harvest control rules that claimed the MSC scheme "was not an accurate means for assessing the sustainability of Indian Ocean tuna fisheries".
According to Greenpeace, companies such as Thai Union must commit to "underlying principles" including delivering "a fully-traceable, third-party verified, chain of custody from ship to point of sale" to include vessels,traders, wholesalers, canneries, and processors".
Companies should also provide "clear, accurate information to customers on labels and online" at the point of sale and "accept the responsibility to prevent or mitigate adverse human rights impacts that are directly linked to their operations", Greenpeace said.
In addition, Greenpeace said companies should not source from any vessels that transfer their catches at sea and "only source from vessels, wholesalers, traders, canneries or processors and other relevant facilities and workplaces" that can prove they uphold best labour practices such as "not actively impeding, sanctioning or disenfranchising workers from exercising any rights to freedom of association, fair representation, collective bargaining or forming or joining a trade union".
The way, Thai Union sources its tuna has come under scrutiny, with the company facing criticism from campaigners. In October last year, Thai Union Group's UK unit John West and Princes, the UK food and drink group, came under fire from Greenpeace over their tuna sourcing and sustainability pledges.
In August Greenpeace wrote an open letter to US retailers and foodservice operators to encourage them to stop selling brands of tuna produced by firms that refuse to "drop opposition to sustainability".