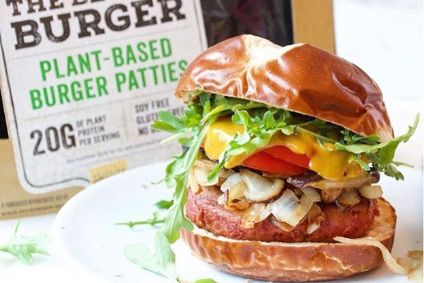 Beyond Meat, the US plant-based burger business, has started to distribute its products to retailers in the UK and Australia.
The UK's Guardian newspaper reported this morning (12 November) the vegan Beyond Burger product – which has caused a stir in the US and attracted investment from the likes of Microsoft founder Bill Gates and actor Leonardo DiCaprio – arrives in UK supermarket Tesco today.
It was due to make its UK debut in Tesco in August but the launch was delayed by supply issues.
The Beyond Burger will be stocked alongside conventional fresh meat patties in more than 350 branches of the UK's largest supermarket, according to the newspaper.
The burger is made entirely from plants, does not use animal stem-cells in production, and is not tested on animals. Each contains 20g of pea protein, coconut oil, potato starch and uses beetroot juice to 'bleed' like a real meat burger.
Seth Goldman, Beyond Meat's executive chair, confirmed the move to The Guardian, saying it is "bringing our innovative approach to merchandising to the UK".
Meanwhile, reports in the Australian media suggest the Beyond Burger is also now on sale there in select IGA stores in New South Wales, Victoria, and Western Australia, and at Coles in New South Wales.
just-food has asked Beyond Meat to confirm the reports.