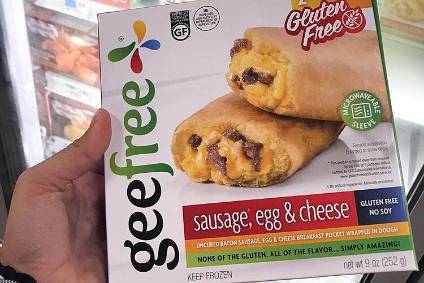 GeeFree Foods, a US supplier of frozen, gluten-free foods, has been acquired by The Fillo Factory, the company's co-manufacturer.
Set up in 2013, New Jersey-based GeeFree markets meals and entrees through US retailers including Albertsons, Giant Food and Kings.
In a joint statement, the companies said The Fillo Factory, also based in New Jersey, plans to grow the GeeFree brand by "expanding [the] sales and brokerage team, creating more distribution channels, doubling down on social media efforts and growing its product line".
The deal comes three years after GeeFree "partnered" with investment firm Procida Funding. Billy Procida, the investor's CEO, described The Fillo Factory as "a great family-owned company with full manufacturing capability and the only company in the country who knows how to handle making our delicious GeeFree gluten-free pastry sheets and other products".
He added: "GeeFree has been recognised as a gluten-free food innovator and now with a premier innovating manufacturer, there is no doubt that the GeeFree brand will leap to new heights."
The Fillo Factory, set up in 1991, markets fillo products such as baklava, appetizers and desserts to US retailers. The company operates out of two plants in New Jersey. Another factory is being planned "for 2024", the statement added.
Financial terms were not disclosed.