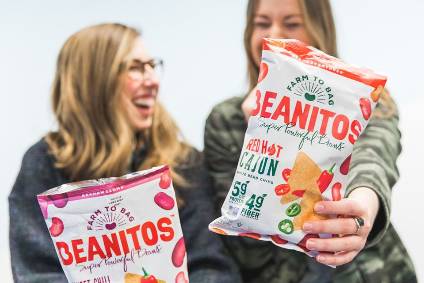 US snacks business Beanitos has a new owner, with another company offering bean-based treats, The Good Bean Co., snapping up the Texas supplier.
Financial terms were not disclosed. However, one of Beanitos' investors, private-equity firm 2x Consumer Products Growth Partners, confirmed the transaction covered the snacks company's brands, products and recipes.
2x Consumer Products Growth Partners and two other Beanitos shareholders – L Catterton and BFY Capital – are now shareholders in The Good Bean Co. and have invested further into the enlarged business.
Sarah Wallace, The Good Bean Co.'s co-founder and CEO, will run the expanded business. Beanitos CEO Giannella Alvarez, who joined the business in 2018, has left the brand.
"This combination is not just one and one is two, I think it's one plus one is eleven and Sarah Wallace is the entrepreneur that can pull this off," Andy Whitman, the managing partner of 2x Consumer Products Growth Partners, said.
"The attractiveness of the combination was so special that it makes investing into the combined platform really exciting. This allows the platform to go places that each business couldn't easily go on their own.
"Now you have a platform that's in three categories not one or two and it gives you a lot more credibility to go to other sectors of nutrient-dense snacks in an easy way."
Beanitos offers bean-based chips and puffs. The Good Bean Co.'s range includes chocolate-covered chickpeas and a mixed line containing favas and peas.
Whitman added: "We're all shareholders in the go-forward entity. This is not about looking for immediate liquidity. We're doing this because we believe in the business."