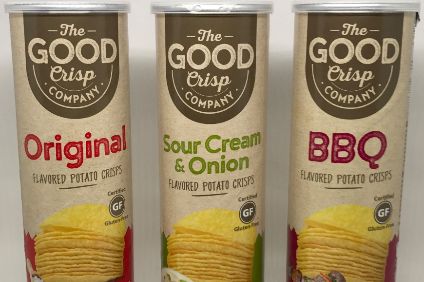 Better-for-you snacks company The Good Crisp Co. has closed a new round of financing from venture fund CircleUp Growth Partners and plans to the use the money to aid the growth of its products in the US market.
The Good Crisp Co. said it expects to quadruple sales in 2019 after securing listings with retail giant Walmart.
The financial details of the funding round were not disclosed.
The business, which originated in Australia, arrived in the US in 2017. It produces stacked chips that are gluten- and GMO-free and do not include any artificial flavours, flavour enhancers or colours.
The products are sold via retailers including Wegmans, Whole Food Market and Albertsons-Safeway. They will be available from Walmart from next month.
Good Crisp CEO Matt Parry said: "2018 was a remarkable year for The Good Crisp Company."
He added: "Our growth over the past year and this new partnership with CircleUp Growth Partners underscores how strongly The Good Crisp is resonating with consumers. We're excited to continue this journey into 2019 and introduce even more consumers to The Good Crisp Company."
CircleUp Growth Partners is a venture fund for innovative early-stage consumer brands.
Partner Patrick Robinson, commenting on the Good Crisp investment, said: "By listening to changing consumer tastes and providing a fundamentally better-for-you option to an everyday favourite, The Good Crisp Company truly stands out."