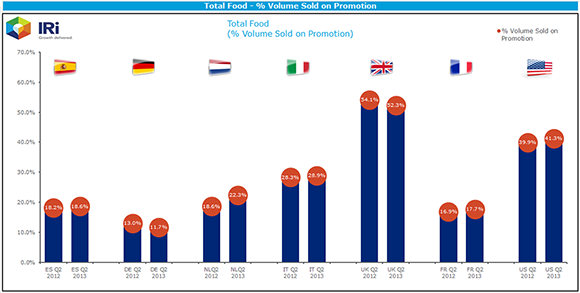 The latest data from the just-food international basket, published today, covers the second quarter of 2013.
The basket is a group of 17 items from tuna to milk that highlights the difference in price between national brands and own label in seven international markets.
Amid the worst economic conditions for a generation, shoppers are becoming more promiscuous in their behaviour and the data will prove valuable to brand manufacturers, own-label suppliers and retailers alike.
The data is compiled exclusively for just-food by IRI. Tim Eales, strategic insight director at IRI, reflects on the latest findings here.
| CATEGORY | TYPICAL PACK SIZE | PACK TYPE |
| --- | --- | --- |
| Cereals | 500g | Single Medium Box |
| Rice | 500g | Single Packet |
| Canned tuna fish | 185g | Single Can |
| Ambient wet soup | 400g | Single Can |
| Ambient mayonnaise | 400g | Single Jar |
| Frozen pizza | 400g | Single Average Size Pizza |
| Frozen burger | 224g | 4 Pack |
| Yoghurts | 500g | 4 Pack |
| Margarine | 250g | Single Tub |
| Butter | 250g | Single Packet |
| Wet cat food | 400g | Single Can |
| Milk – ambient | 568ml | One Pint |
| Beer | 440ml | Single Can |
| Fruit juices – ambient | 1000ml | Single Carton |
| Energy drinks | 250ml | Single Can |
| Tea bags | 500ml | 160ct Packet |
| Colas | 1320ml | 4 cans |