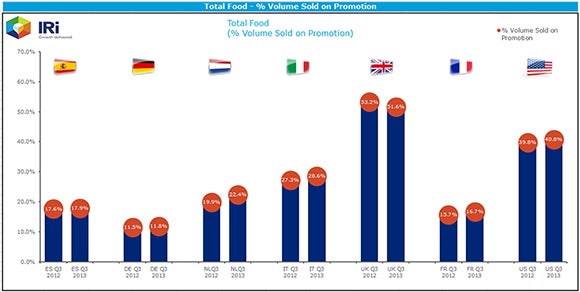 The latest data for the just-food international basket – for the third quarter of 2013 – shows private-label prices are continuing to rise but, in the main, consumers are not reacting negatively.
The basket is a group of 17 items from tuna to milk that highlights the difference in price between national brands and own label in seven international markets.
The data is compiled exclusively for just-food by IRI. Tim Eales, strategic insight director at IRI, reflects on the latest findings here.
| CATEGORY | TYPICAL PACK SIZE | PACK TYPE |
| --- | --- | --- |
| Cereals | 500g | Single Medium Box |
| Rice | 500g | Single Packet |
| Canned tuna fish | 185g | Single Can |
| Ambient wet soup | 400g | Single Can |
| Ambient mayonnaise | 400g | Single Jar |
| Frozen pizza | 400g | Single Average Size Pizza |
| Frozen burger | 224g | 4 Pack |
| Yoghurts | 500g | 4 Pack |
| Margarine | 250g | Single Tub |
| Butter | 250g | Single Packet |
| Wet cat food | 400g | Single Can |
| Milk – ambient | 568ml | One Pint |
| Beer | 440ml | Single Can |
| Fruit juices – ambient | 1000ml | Single Carton |
| Energy drinks | 250ml | Single Can |
| Tea bags | 500ml | 160ct Packet |
| Colas | 1320ml | 4 cans |