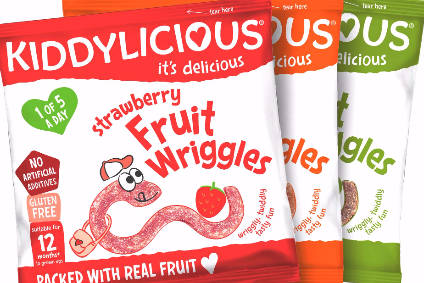 The Kids Food Co., the UK business behind baby snacks brand Kiddylicious, is to enter three more European markets by next spring.
The company, which already does business in markets including Scandinavia, has secured listings in Belgium, the Netherlands and Hungary.
The business said the UK's decision to leave the EU had sped up its plans to develop its export business.
Kiddylicious products will go on sale in Tesco stores in Hungary this month. Dutch chain Jumbo will start to stock lines in January. The Kids Food Co. said "several of the biggest retailers" in Belgium would list the brand next spring.
"It's rewarding to see the results from building new relationships within tactically important markets," commercial director Neil Mather said. "Kiddylicious is currently sold in 22 countries and [the] projection for 2017 is to double the size of our international business and be sold in 30 countries."
The Kids Food Co. was set up by former Marks and Spencer food scientist Sally Preston in 2009. The company declined to comment on its turnover and net profit but said its "brand value forecast" for 2017 was GBP15m (US$18.7m). It said it had "very healthy EBITDA, no financial investment needed [and] more than 50% growth forecast for 2017".
The business generates 15% of its sales in export markets and is looking to take that proportion to 30%.