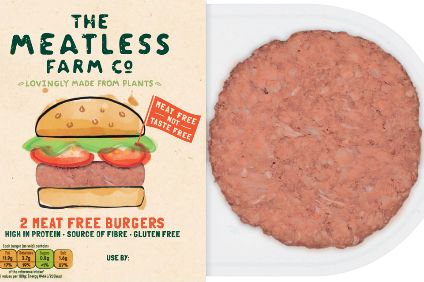 The Meatless Farm Co., a UK manufacturer of plant-based burgers and mince, said it has secured a "seven-figure" investment deal with TV broadcaster Channel 4.
The broadcaster will take an undisclosed equity stake in the Leeds-based firm, which was founded in 2016 by Danish entrepreneur Morten Toft Bech and counts former Kellogg executive Robert Woodall as CEO.
The funds were provided through Channel 4's Commercial Growth Fund, and in exchange Meatless Farm will get access to commercial airtime for its advertising, according to a statement.
"Channel 4 has always been at the forefront of social change and this investment is a pivotal moment in The Meatless Farm Co.'s journey," said Toft Bech. "Channel 4's audience and environmental and ethical values align strongly with ours and we are very much looking forward to the future."
The broadcaster will host a new advertising campaign for Meatless Farm across its main channel and its All 4 streaming service.
Vinay Solanki, the head of the Commercial Growth Fund, said: "This is an exciting investment for Channel 4 as we extend our Commercial Growth Fund investment portfolio into a new sector and support an innovative Leeds-based company with an impressive entrepreneurial management team.
"The plant-based market is a huge growth area as people, particularly young people, are increasingly seeking plant-based alternatives to meat. The Meatless Farm Co.'s innovation and sustainability credentials are inspiring, and we hope that through advertising across our channel portfolio and reaching our valuable core 16-34 audience, we'll help support their impact and growth journey."
Meatless Farm announced during the summer it planned to start manufacturing in the US having gained listings in Whole Foods Market and set up an office in New York. In the UK, the company has listings in Sainsbury's and Morrisons, and also exports overseas.
just-food interview in April 2019: "There will be a shakedown of brands in UK meat-free" – The Meatless Farm Co.'s new CEO Robert Woodall on looking for an edge