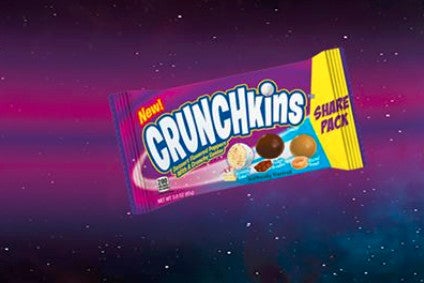 US confectioner The Topps Co. has announced the launch of dessert flavoured candy treat Crunchkins as part of its Bazooka Candy Brands portfolio.
Topps described Crunchkins are dessert-flavoured bite sized poppers with a creamy coating on the outside and a light, crunchy centre.
A three ounce pack contains three flavour including birthday cake, fudge brownie and glazed doughnut.
"Crunchkins are a fun change of pace for the confectionery category," said Nicole Rivera, marketing and innovation Director, Bazooka Candy Brands. "It's a unique creamy, crunchy mix of dessert flavours all in one shareable bag. It's a truly innovative take on some of America's favourite flavours," she added
Crunchkins hits retailers across the US from March, starting with Walmart and then 7-Eleven and other "key retailers" in June. It has an RSP of US$1.38-1.50.
The Topps Co confectionery portfolio includes brands such as Ring Pop, Push Pop, Baby Bottle Pop, Juicy Drop, and Bazooka Bubble Gum.