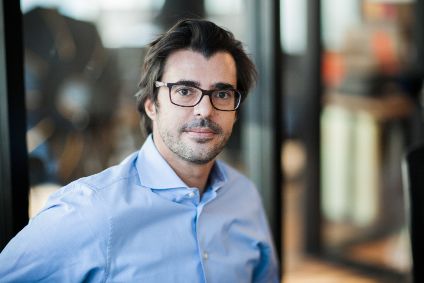 The most-read interviews on just-food in 2019 featured Mondelez International, Danone and Mars – as well as number of up-and-coming, on-trend businesses.
"The old innovation model is not working" – Mondelez International chief growth officer Tim Cofer on the snacks giant's quest for agility
Mondelez International chief growth officer Tim Cofer talks to Dean Best about how the US giant's SnackFutures hub will help the Cadbury owner "lead the future of snacking".
"The idea is to embrace change" – Danone Manifesto Ventures chief Laurent Marcel on the French group's investment strategy in an industry disrupted
Laurent Marcel, the managing director of Danone Manifesto Ventures, talks to Dean Best about the French giant's strategy of investing in up-and-coming businesses shaking up the food industry.
"I want us to be the Red Bull of sports nutrition" – Grenade founder Alan Barratt on UK firm's rise and ambitions for further growth
Andy Coyne speaks to Alan Barratt, CEO of UK sports nutrition business Grenade, about how branding and distribution have aided the company's move into the mainstream.
"There will be a shakedown of brands in UK meat-free" – The Meatless Farm Co.'s new CEO Robert Woodall on looking for an edge
UK meat-free start-up The Meatless Farm Co. started business two years ago and has since hired ex-Kellogg executive Robert Woodall as CEO. Woodall talks to Dean Best about The Meatless Farm's bid to carve out a foothold in a competitive market at home and overseas.
"We will see a large number of new brands emerging" – DSG Consumer Partners' Deepak Shahdadpuri on how India's FMCG market is opening up
India is seeing similar changes to consumer habits as western countries. Private-equity firm DSG Consumer Partners has backed some up-and-coming food companies and founder Deepak Shahdadpuri talks to Dean Best about his deal-making and how he sees India's FMCG market developing.
"It's a matter of staying relevant as a business" – Danone CEO takes lead in new industry push on inequality
Danone CEO Emmanuel Faber, a vocal advocate for corporations to work to address global environmental and social problems, is at the forefront of Business for Inclusive Growth (B4IG), a new, business-led coalition set up to try to tackle inequalities. He talks to Ben Cooper about why businesses need to play a leading role on the issue.
"There are a lot of areas we haven't tapped into" – Clarence Mak on why Mars has set up Seeds of Change accelerator
Mars has joined the ranks of Big Food companies using accelerators to try to improve their innovation and tap into emerging consumer and category trends. Dean Best discussed the move with Clarence Mak, Mars Food's chief innovation officer, and a mentor on the new programme.
"The timing for edible insects could not be better" – Eat Grub co-founder Shami Radia, the bitesize interview
UK edible insect supplier Eat Grub won listings for its roasted crickets snacks at Sainsbury's last year and is lining up further deals with other customers this year. Simon Harvey speaks with co-founder Shami Radia as the London-based start-up seeks another round of external investment.
"Our biggest competition is cereal, ready meals and sandwiches" – Huel CEO James McMaster on his functional food brand's prospects
Andy Coyne speaks to James McMaster, CEO of UK-based meal replacement brand Huel, about where the direct-to-consumer business is heading.
Arla Foods' Tomi Siren on how blockchain is helping the dairy giant's sustainability drive – interview
Blockchain is one of a bunch of emerging technologies catching the attention of FMCG companies. Dean Best talks to Tomi Sirén, the head of digital at Arla Foods' business in Finland, about a pilot the dairy giant has launched with an eye on traceability and consumer trust.